21 Mai

Bar Guide Los Angeles Part 1 – 30 Bars in 30 Days

You can explore Los Angeles by visiting the usual hotspots and more or less well-known tourist attractions or by neighborhoods. Or you eat and drink yourself through this highly diverse city that has so much more to offer than merely awful Hollywood. That's exactly what we did! Leaving food recommendations aside for now all the great bars, bartenders and drinks that crossed our path during the last weeks take center stage. As we were based in Silver Lake this bar guide tends to be biased towards east LA. We are fully aware of that. Also, LA's bar scene is constantly evolving. Every week sees new openings and closings. What's hot today could be "dead" by tomorrow. So please don't use this guide as a bucket list – instead, pick some bars that match your preferences, go there, talk to the bartenders, ask them about their favorites and gather your own experiences. We hope you'll enjoy our bar guide and our exclusive interviews with barchefs and beverage directors like Maxwell Reis and Cari Hah. Cheers!
Down on the West Coast they got a sayin'
"If you're not drinkin' then you're not playin'"
– Lana Del Rey, West Coast
****
1. Gracias Madre (West Hollywood)
While most places simply follow already popular trends because their owners don't like to take risks, only a handful of visionaries are creating them. Jason Eisner, who nowadays runs Block Party in Highland Park, became a crucial figure for the vegan movement in Los Angeles thanks to his 100% plant-based beverage menu. Back then he was one of first beverage directors who explored the possibilities of vegan craft cocktails. Eisner's efforts paid off, putting vegan Mexican restaurant Gracias Madre in West Hollywood on LA's bar map. While the food is highly popular also among non-vegans, Gracias Madre's reputation as an outstanding bar comes pretty close. Since Eisner left Gracias Madre the bar program is overseen by Maxwell Reis who not only refines Eisner's techniques but who is also exploring new ways. As he told us, the possibilities of creating vegan/organic craft cocktails are limitless. By focusing on high quality spirits from small producers and ingredients made in-house he is able to introduce new flavors to Gracias Madre's discerning and sometimes quiet famous guests (if you want to know more, use Google). Some creations have already become his own signature drinks. To be honest we are not sure if we would order a drink made of arugula. Thankfully Max made that decision for us and we couldn't be happier with the outcome. The "Rocket Man" is an incredibly well-balanced drink, it's refreshing and doesn't try to hide the arugula flavor. Even the "The Usual Suspects" section holds some surprises like a "Negroni Verde" made of mezcal and green chili. Besides being all vegan Gracias Madre's cocktails are also all made of mezcal or tequila provided by small independent producers from Mexico and Central America. Initially you might come around for the food, but you will certainly stay for the drinks and a chat with Maxwell who gave us some very interesting answers (especially the last one). Now we love you even more!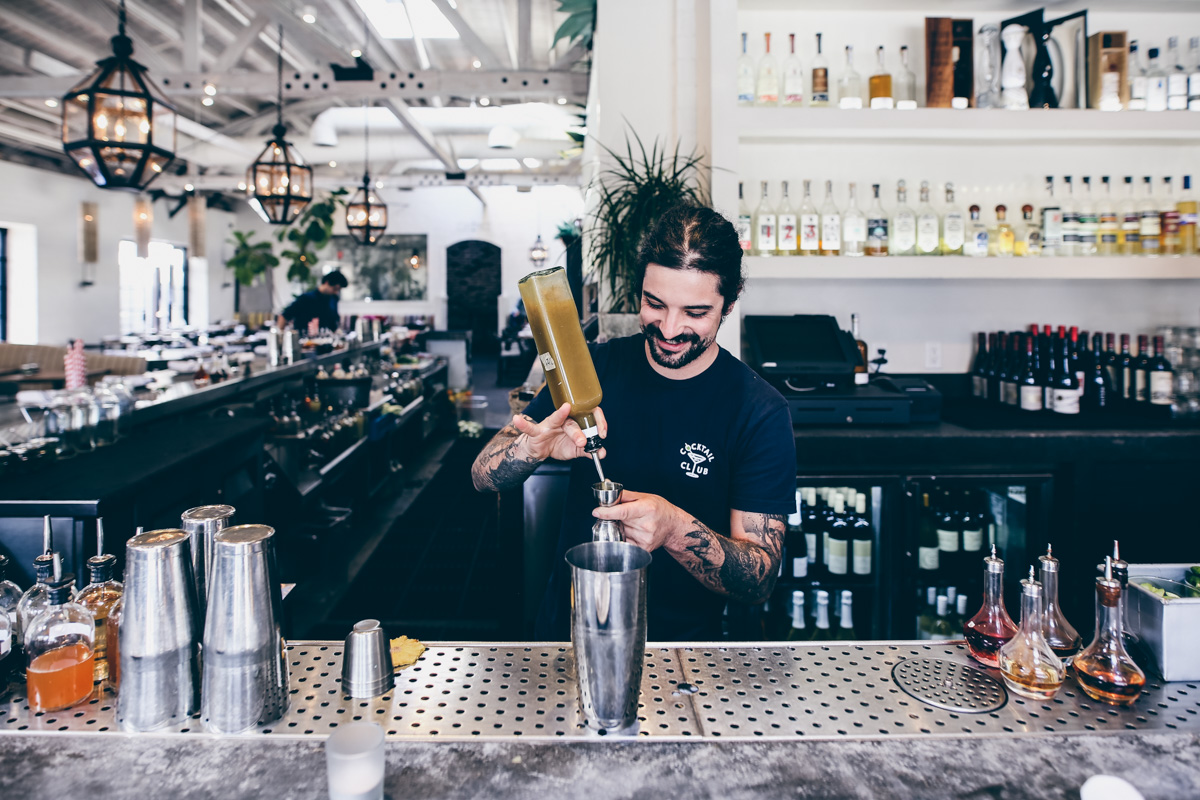 Nice to meet you Maxwell! Could you briefly introduce yourself?
My name is Maxwell Reis, and I'm the beverage director at Gracias Madre in West Hollywood. I'm originally from Napa, California. I moved to Los Angeles after high school to play music and fell in love with cocktail culture shortly after.
What makes your bar unique?
We're an all agave bar attached to a vegan Mexican restaurant, which is pretty unique in itself! As far as my program, it's really an effort to combine the vibrant and unique flavors that Mexico has to offer with what I feel are the cocktail roots here in LA. Tiki, which was born here, and American Classics/Neo Classics. I want our guests to trust us, so we can take them to new and exciting places.
Please tell us about your favorite spirit and drink!
Mezcal, hands down! It's the purest and more expansive representation of terroir, variatle, and historical culture you can find in a bottle outside of wine. Mezcal neat is my go-to drink, but if I had to pick a favorite cocktail, I would probably pick the Sherry Cobbler. It's so beautiful, simple, and easy to mess up, like most things in life. Plus, you can drink a million of them.
What bartender should we meet next?
Shawn Lickliter, from République. I think he runs the most overlooked cocktail program in the city. The restaurant itself is known for the incredible food and amazing wine program, so I feel people don't often stop to really take in how amazing the bar is. He not only boasts one of the better curated selections of spirits in the city but has a daily rotating cocktail menu that depends entirely on the chef's farmers market trip that morning. Cocktails never overdone and always done right.
Any recommendations what to do in LA?
Avoid Hollywood like the plague! There are some awesome places to eat and drink but get in and get out. Go where locals go, and that doesn't just mean to the beach. Drive around the east side of LA, eat some tacos on the corner, go to Echo Park lake, walk around Downtown, just explore!
2. Lono (Hollywood)
Hollywood is probably one of the most idealized places in the entire world. It's a place of endless hopes and dreams, but also one of fading glory days. The old Hollywood era was replaced by a not so glamorous age, at least in our opinion. Therefore, we usually try to avoid the touristy Hollywood Boulevard with its legendary Walk of Fame. One of the better – or the best – reasons for a trip to Hollywood however is called Lono. We admit that the description of a classic Tiki bar always consists of the same words: kitsch, palmtrees and Mai Tai. We get it. But in case of Lono all of these well-known ingredients are executed in a flawless manner, creating a true Polynesian oasis in the middle of Hollywood. The team behind Lono already operates a great café/bar outpost on Melrose called Melrose Umbrella. We come back later to that place. For their trip into the Tiki universe they teamed up with award winning chef David Lespron of Katsuya, who created an equally tasty food menu with Asian influences. Even if we could easily get addicted to that salty coconut popcorn, we're here for the Tiki drinks. Bartender Justin might not be a Hawaiian native, but his cocktails like the refreshing Suffering Bastard (a hangover cure if you believe their menu) or the Bacardi based Nui Nui teleport you directly to a sandy Polynesian beach. You also can't go wrong with a classic Mai Tai or Pina Colada. Lono teaches everyone – and every average Tiki place – how to create retro Tiki vibes in style. In the end it's all about fun and meticulously crafted drinks. Just come to Lono and forget about the rest of Hollywood!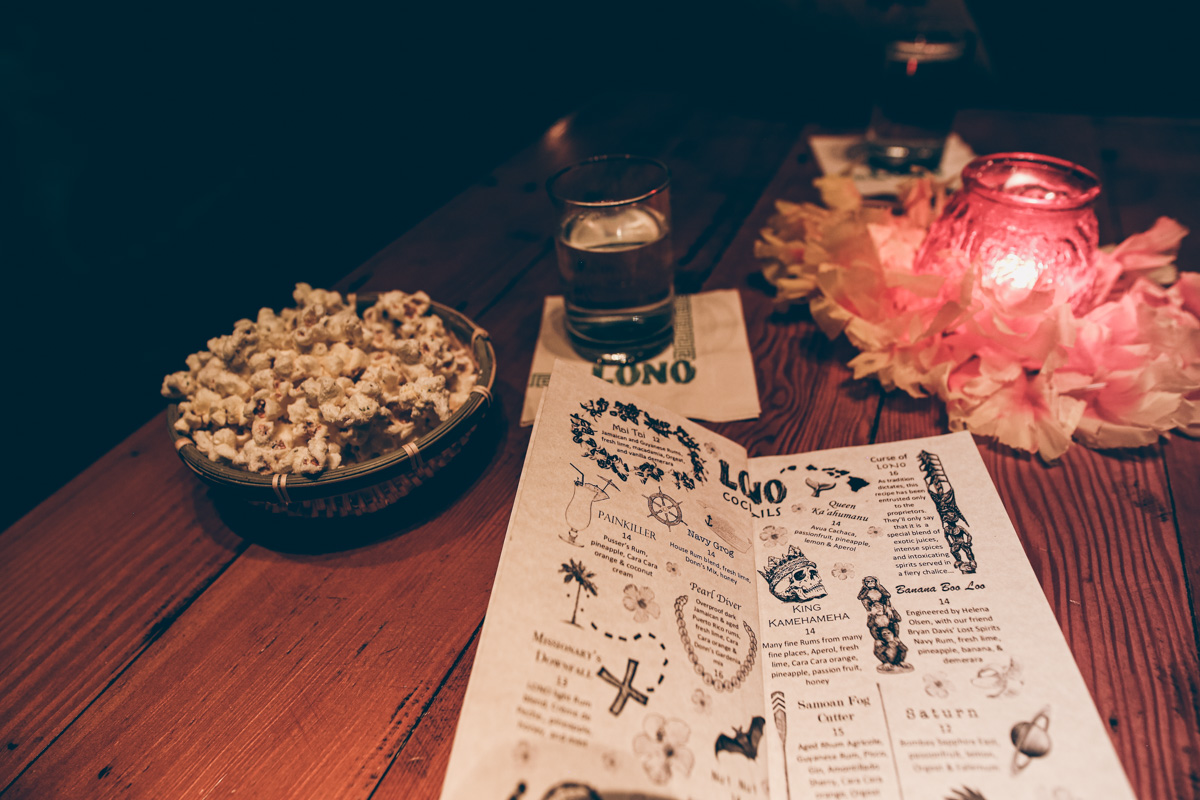 3. Duello (Arts District)
To experience how a city can evolve and change, you need to go see LA's resurging Arts District. The atmosphere is vibrant, the people who work and live here are creative, very open-minded and of course into all kinds of art. Besides a host of galleries and small art studios an exciting culinary scene has evolved in this area. The recently opened bar Duello is a place we instantly fell in love with. It's the brainchild of Iain McPherson, a Scottish entrepreneur and bartender, whose Edinburgh home base Panda & Sons was ranked among the world's Top 100 bars. For his LA outpost, Iain took inspiration from the Arts District's diversified past, which still can be found in this rapidly changing neighborhood. The menu is divided into different sections, each representing an era. The wine and sherry-based drinks are a reference to the late 19th century, when the area was influenced by wineries. Other chapters include Tiki and citrus-heavy drinks from the 1920s and artist inspired cocktails from the 1970s onwards like the "New Order" (inspired by Scottish sculptor Karla Black). We were in the capable hands of bar director Kaiko Tulloch, who traded her Scottish home for LA. Not a bad deal, right? (no offense to Scotland) We caught Kaiko while she was setting up the bar for the evening service, preparing some of the ingredients and punches. Take for example the "New Order". This drink might look simple and pure, but its rich flavors of mezcal, pandan and smoke will surely take you by surprise. And it takes some time to make the clarified milk punch that is the base of this cocktail. To smoke the drink isn't just a gimmick, it's essential. Trust the professionals, trust Kaiko and her bar team. She will guide you through a century of flavors, drinks and barlife.

4. The Normandie Club (Koreatown)
One of LA's most vivid neighborhoods must be Koreatown or K-Town as the locals say. Situated inside the legendary Hotel Normandie that first opened its doors back in the roaring 1920s, the Normandie Club awaits barflies, cocktail enthusiats or just everyone with a thing for good drinks. As some hotel bars can easily feel a little bit generic, clinical or interchangeable, this is not the case here. We would rather compare the Normandie Club with a classic American bar, equipped with comfortable leather armchairs, wood panellings, dim lightning, white brick walls and – most importantly – a huge selection of fine spirits. If you are more in the mood for a beer, cider or a fine wine, Jamal and his bar crew won't disappoint either. As we were told, the place really gets crowded on Friday and Saturday nights, so they decided to remodel/enlarge the space (that's the good news) and close the famous The Walker Inn (that's the not so good part). The secret back room bar became an instutition building up a reputation way beyond LA thanks to superior drink menus. Let's hope that The Walker Inn will pop up somewhere else in the future. Putting a certain melancholy aside we experienced and enjoyed the quality of Normandie Club's cocktail menu. In addition to all the beloved classics like a great Brooklyn (highly recommended) or Martini, an Old Fashioned or a Collins, the bar also offers its own take on those timeless drinks along seven categories. When it comes to the ultimate bar experience, the drinks are only one (important) part of the puzzle. Add to the mix atmosphere, hospitality and a pleasant crowd for a night to remember. The Normandie Club is a safe bet and a bartender's favorite.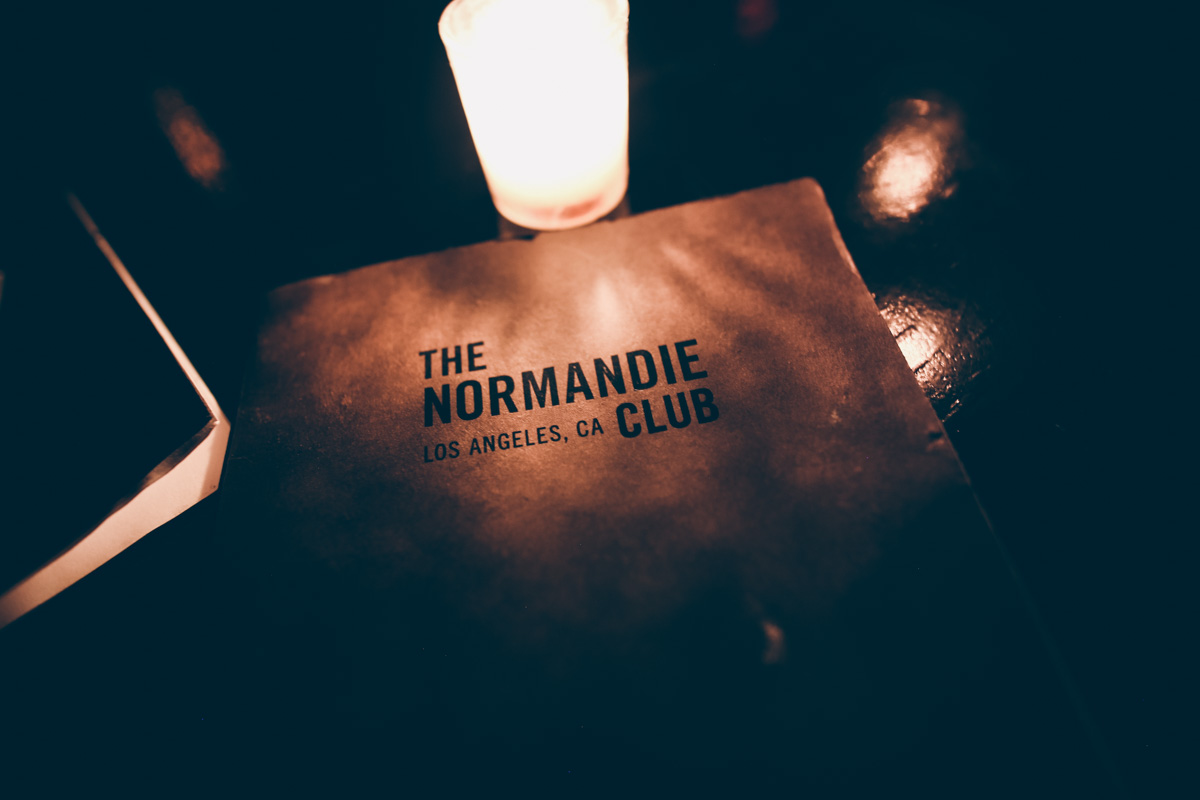 5. Bar Caló (Echo Park)
Mexican influences are all over the place in California and particularly in LA. This is true for culture, food and also for drinks. Mezcal is probably one of Mexico's most successful export goods. Made from different kinds of agave, the distilled beverage can be used as the base for many drinks and cocktails. The most popular mezcal is Tequila, made from blue agave. The recently opened Bar Caló in hip Echo Park pays tribute to mezcal and tequila with a sophisticated cocktail menu by mixologist Jeremy Simpson, whose creations already put places like Good Housekeeping and award-winning Bestia on LA's culinary map. Most drinks are mezcal-based, redefining classics like an Old Fashioned (with smoky mezcal instead of whisky) or a Negroni (which is called Don Negroni here). Jeremy uses seasonal ingredients and sometimes he goes completely new ways. In either case you shouldn't leave this place without a mezcal tasting, showcasing distillates from different Mexican regions like Oaxaca. Instead of promoting the big American mezcal producers Bar Caló relies on small regional mezcal brands. This was Jeremy's very conscious decision as he seeks to support bio diversity and at the same time push back monoculture. The intimate, very charming interior of Bar Caló is another pleasant surprise, contrasting with the rather unimpressive strip mall setting from the outside. And thanks to Brooke Fruchtman and Jaime Turrey, who are not only the owners of Bar Caló but also behind the food menu of Echo Park's first-class restaurant Ostrich Farm, the drinks are accompanied by authentic Mexican dishes. But be warned: Some of the dips can be spicy as hell! But if you like mezcal, you could certainly handle Mexican cuisine. This is no kindergarten, right Jeremy? If you pop down on a Monday, you can enjoy Bar Caló's Happy Hour all night.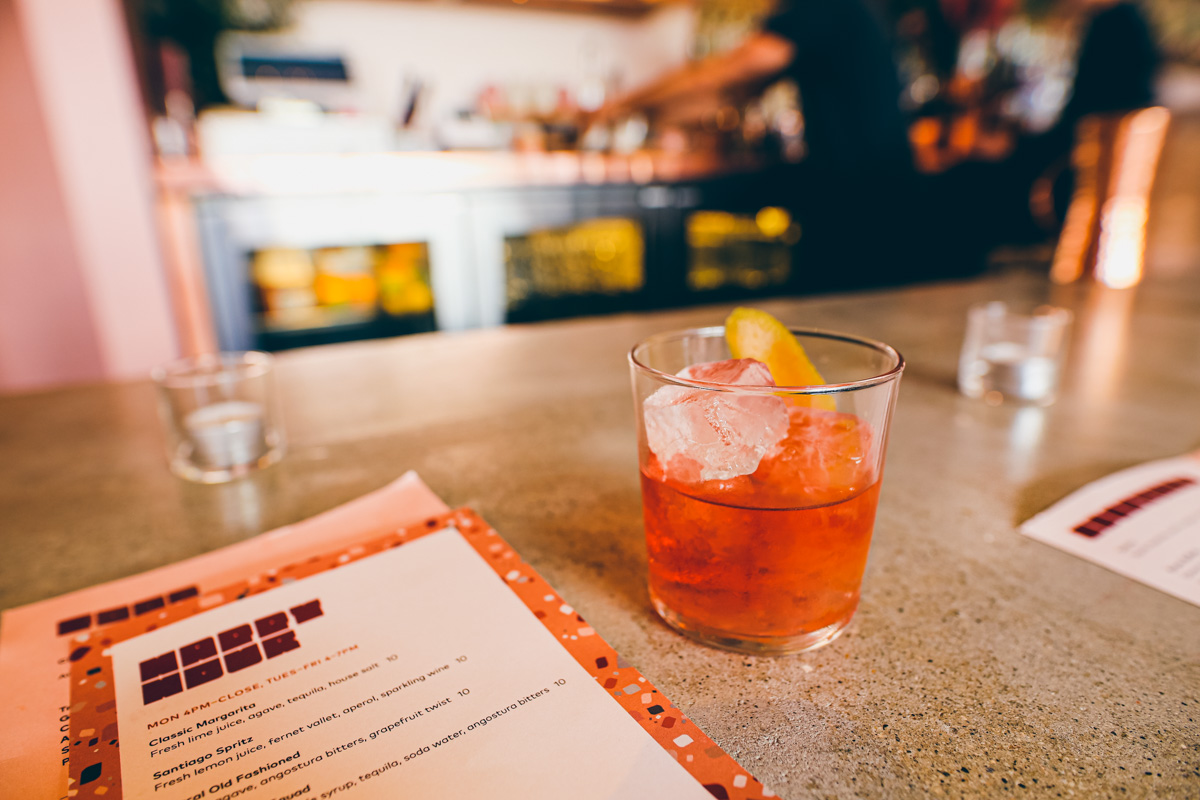 6. Tenants of the Trees (Silver Lake)
Sometimes it only needs a certain trigger for a déjà vu. In case of Tenants of the Trees in Silver Lake we felt as if we had been there once before (which is not the case). Opened in 2015, the owners wanted to establish a new multifunctional, intriguing venue for party people, music lovers and cocktail connoisseurs all at the same time. Rather unimpressive from the street level – there is only a small neon sign which says "cocktails" – you are teleported into another dimension of midcentury modernism and sophisticated design upon entering the first of three different sections. The small Out of Order space features a bar and a music/performance venue. It has an intimate club-like feeling and can be turned into a party space, where you will probably find the cool kids. After that you enter a bigger room with the main bar. Finally, an open patio with a portable bar station and an elegant midcentury sunroom round off this multifunctional, truly impressive venue. The rest of the evening we found ourselves – unsurprisingly – at the main bar. Steven, who also created some of the drinks from Tenants' bar menu like the incredibly smooth wine-vodka-drink called "Only Lovers left alive", took good care of us. Not only with regard to the drinks but also thanks to his anecdotes about LA's bar life. If you need some insider tips (where to eat, drink or simply have a good time), this is your man! However, our lips are sealed, so we can't tell you which celebrities like to hang out at Tenants of the Trees. Before getting lost in gossip we definitely need to praise the overall experience at this popular Silver Lake destination. In a certain way its playful yet stylish vibe is comparable to some venues owned by the famous Houston brothers (especially to the more casual Good Times at Davey Wayne's). At Tenants of the Trees you come around early for the drinks and you stay for the fun.
7. Gold Line (Highland Park)
Amid the rapid changing neighborhood of Highland Park, a new destination for barflies and connoisseurs of fine music opened its doors in late 2018. Gold Line Bar on Figueroa Street has quickly become a favorite not only among locals. More and more cocktail lovers from all over the city discover this little gem as it gets very busy not only on the weekends (there's usually a line on Friday and Saturday nights). Even on a supposedly quiet Monday night Gold Line's experienced bartenders have more than enough to do. Gold Line is the latest project by Hip-Hop DJ and producer Peanut Butter Wolf alias Chris Manak of Stones Throw Records. With Gold Line he and his business partners – Tyler Bell of Silver Lake's famous El Condor restaurant among them – established a new venue for good (vinyl) music and even better drinks. The more than impressive vinyl collection covers almost 8,000 different records, mostly hip-hop, funk and soul tracks from Wolf's private collection. While other places are well-known for inviting bartenders to a guest shift, the alternate DJs at Gold Line play a similarly important role. It's hard to imagine this bar without the music, given the superb quality of the built-in sound/hi-fi system. At Gold Line drinks and tunes complete each other. As for the drinks the menu follows a straight-forward "three ingredients" approach. Mezcal and whisky take the center stage, but of course you can also order a glass of wine or a beer. Bar manager Edwin Diaz seved us his interpretation of a Negroni called "The 56" (named after the street nearby), using Amaro Montenegro made of 40 botanicals. We highly recommend this drink. It's so well-balanced, you will probably want more than one. "Orbit" (named after the owner's dog), the second cocktail, is really refreshing and more on the sweeter side thanks to Lejay – a French crème de cassis liqueur. Both drinks can be enjoyed at the beautiful bar made of walnut or at Gold Line's cozy lounge in the back.
Nice to meet you Edwin! Could you briefly introduce yourself?
I was born and raised in Los Angeles, working in the industry for the last 7 years. I play music and video games in my spare time. I forget that I have to work out on multiple occasion. I live and work in Highland Park, which is advantageous given my position with Gold Line, but it is also an easy way to spend way too much time at work. I am hopeful that I get to travel the world someday.
What makes your bar unique?
Gold Line is unique to this city because we offer a curated listening experience like no other. We have DJ's come in and select records from the 8000+ collection, but the best part is that they can only choose from the collection available. No records come in and no records come out. As far as the cocktail program goes, it's pretty simple. Nothing overly complicated so that is really easy and approachable, but also weird enough so that your seasoned drinker would be curious to try it.
Please tell us about your favorite spirit and drink!
At the moment my favorite is Gin. I know that's not very typical especially given the agave craze that is happening, but it is my favorite to play around with. We also are in the midst of a push for gin that is stemming away super dry and more towards citrus forward which is quite nice. My favorite cocktail is a Negroni.
What bartender or bar owner should we meet next?
I think you should meet my buddy Raul Pool. He's about to open up a bar in Echo Park next month and he's been in the industry for a long time. I have also known him for half of my life.
Any recommendations what to do in LA?
My favorite things to do in the city are simple pleasures. I like listening to as much new music as possible and the best part about Gold Line is that it allows me to do just that every day at work. With that said, I do like the live music scene and try to go to as many shows as possible. I also like to go to Dodger games whenever they are in town.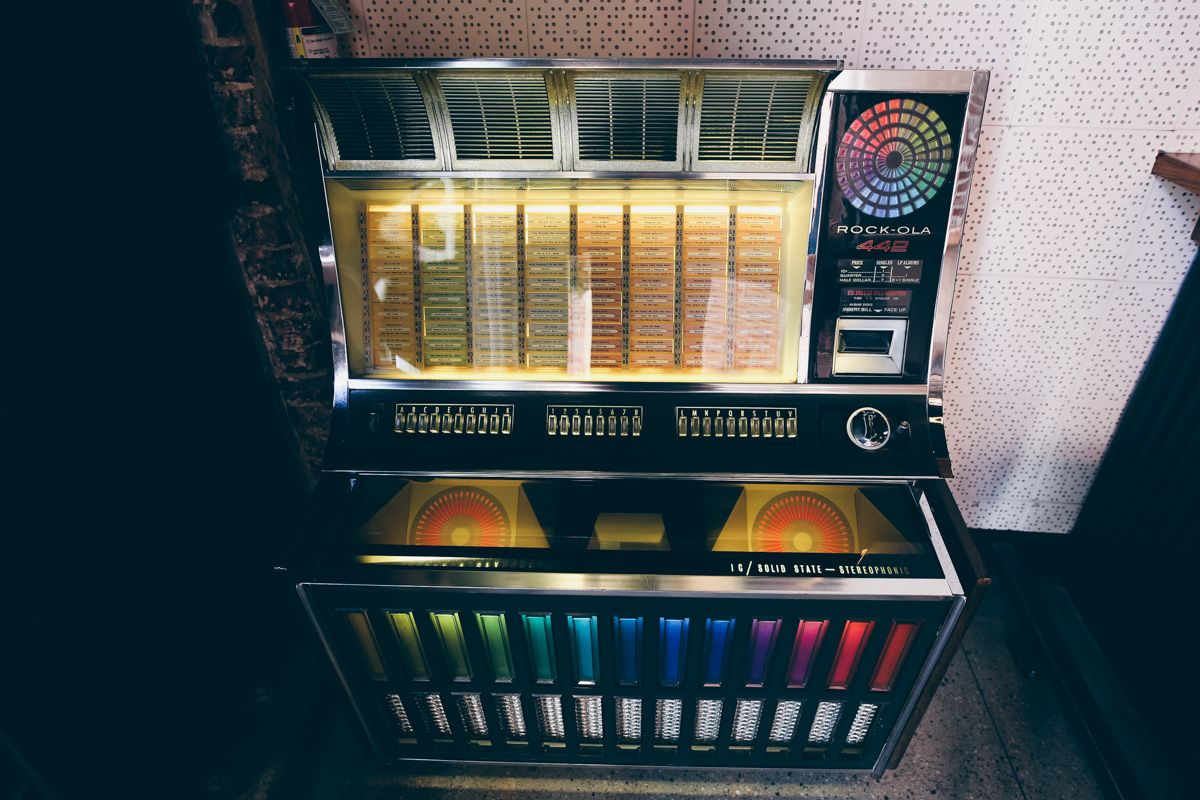 8. Le Néant (Downtown)
As Le Néant's french name ("the nothing") would suggest, this hidden bar inside the historic Alexandria Hotel in Downtown LA actually doesn't exist. Or it should be a treasured secret aiming at sophisticated cocktail lovers. Located in the back room of the equally charming The Wolves bar, Le Néant clearly stands out for a number of reasons. First of all, there's host Kevin Lee who is also responsible for the bar program at The Wolves. Lee's philosophy is straight-forward, leaning on seasonal ingredients for the drinks that he finds on LA's farmers markets. Instead of buying all the syrups, vermouths, bitters and liqueurs, he makes all of it in house. Patrons simply choose the desired ingredients from the ambitious Omakase-style menu. The ingredients themselves can be very unusual – at least for a cocktail bar. Or have you ever heard of hen of the woods mushrooms and winter truffles as flavoring parts in a drink? Of course, you might tell Lee and his bar team your favorite spirit if you have one. Another "USP" if you wish to use this phrase is Le Néant's first-class approach to service. There are only 8 seats at the bar and a small intimate lounge, keeping the number of guests to a very manageable amount. To start a conversation with Kevin or the other guests is remarkably easy. We found ourselves talking not only about drinks until 1 AM. In any case you need to buy a ticket in advance with your reservation, so the drinks – usually three tailor-made cocktails plus an aperitif and a digestif – are pre-paid. Getting a seat at Le Néant is probably the hardest part as the intimate bar is only open on Thursday nights so far. Keep an eye on their Instagram account when they announce new dates and watch the seats sell out fast. All things considered, Kevin Lee has created an outstanding experience with Le Néant, raising the bar to new heights in today's thriving bar landscape.
9. Old Man Bar (Culver City)
The times when dimly lit bars and strong drinks belonged to old men are long gone. So, don't be fooled when you come across this place in Culver City. Even if the name above the entrance states "Old Man Bar", you will probably meet more young or middle-aged people here. The bar is actually the smaller part of a way bigger venue called Hatchet Hall. The restaurant by chef Brian Dunsmoor focuses on old American cooking techniques and recipes with a modern twist. All plates are meant to be shared and we highly recommend doing so. Lovers of meat and venison cooked over wood fires will enter culinary heaven at Hatchet Hall, but even the vegetables are excellent and more than just side dishes. While the restaurant is also home to a large bar with a fine cocktail selection, it's the Old Man Bar we would like to introduce in this guide. You can either enter the small bar directly from the street or through Hatchet Hall. In both cases you will find yourself in a very dark intimate hunting lodge ambience with lots of wood, stuffed animals, a real fireplace and a huge selection of spirits. And when it comes to spirits the bartenders at Old Man Bar take things very seriously. Instead of garnishing a drink with fancy stuff they concentrate on the booze, mainly whisky. Lovers of strong boozy drinks can choose between a curated list of signature cocktails, many Old Fashioned variations like the pictured "American Trilogy" and classics like a Sazerac, Manhattan or Brooklyn. Ordering a beer and a shot seems quite popular as well. When the bartenders don't make you a drink, they take care of the music, playing rock and soul tracks from the 60s/70s/80s. Forget about Spotify, at Old Man Bar vinyl is still king! As with the spritis they know the what they are doing.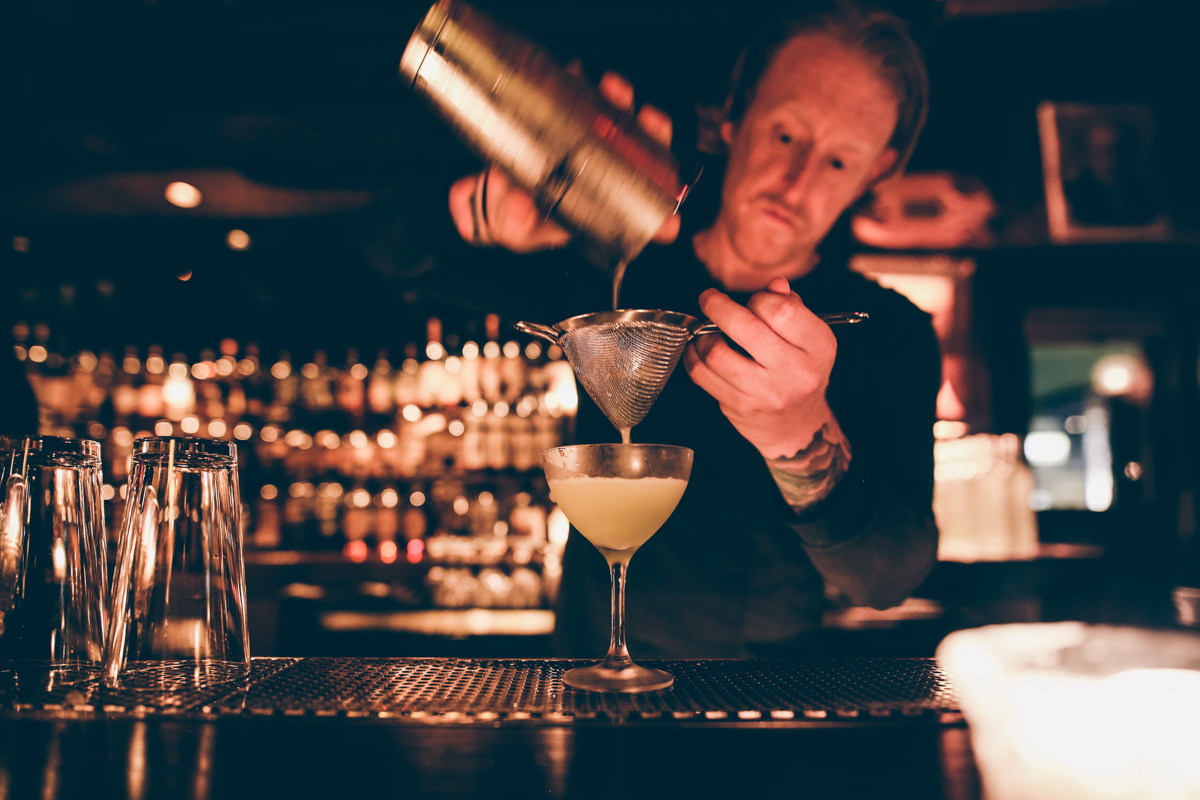 10. Chez Jay (Santa Monica)
Sometimes all that matters is a great and friendly atmosphere. Sometimes we just need a place that feels right. Chez Jay in Santa Monica which has become an institution over the last six decades (it's open since 1959) is one of those friendly places. Certainly, more a kitschy restaurant than a classic bar the great staff takes care of every guest with tremendous hospitality. Famous for the generous portions, the seafood and steaks Chez Jay became famous themselves thanks to its charming dive bar vibes and nautical interior. In addition, it made history as a celebrity hang-out and popular location for many Hollywood movies and TV series. Billy Bob Thornton's alter ego in "Goliath" got drunk at Chez Jay almost every night. Only one day before we came around Lady Gaga was there. Bad timing, we guess? Every story or anecdote adds up to Chez Jay's already big legacy. To our surprise most guests seem to be locals, enjoying their food and the simple but strong drinks. You shouldn't expect fancy craft cocktails. To cut a long story short: At Chez Jay you take a seat at the bar and order a beer or a classic drink. While doing so you will probably get into a conversation with the other guests. That's another thing we love about this old-fashioned but not outdated spot. In today's era of social media and end-less self-staging Chez Jay is the effective antidote. Instead of looking at your cell phone you talk to real people. The world would be a better place if we all would exchange opinions in a bar like this.
11. Broken Shaker (Downtown)
We would probably say that a bunch of factors make a good bar. Besides the drinks, the bartenders and the vibe, some bars have another ace up their sleeves. At Broken Shaker, the ace is quite obvious. Situated on the rooftop of Downtown's popular Freehand Hotel the view from there is breathtaking and one of the main reasons to go there. Hanging out on a rooftop with a nice drink and some friends may not be unique to LA. But thanks to the Californian weather it's a great idea almost any time. Originally from Miami, Broken Shaker established itself as one of best and most famous bars in the country. When they came to LA back in 2017, going for a rooftop concept, the success was almost guaranteed. Even on a cloudy weekday the bar is a popular spot among hotel guests, other tourists and also locals. It's mostly a younger crowd who enjoys the laid-back joyful atmosphere of Broken Shaker's Tiki and LA inspired cocktail menu (overseen by LA's famous bartender Christine Wiseman). Some might compare Broken Shaker's colorful rooftop bar with a Polynesian oasis in the middle of buzzing Downtown. Sitting right next to the pool which is unfortunately only open to hotel guests and surrounded by lots of greenery gets you immediately in a holiday mood. And in our opinion this place is worth the long wait especially at sunset or at the weekends. While the drinks do justice to Broken Shaker's reputation, the magic of this bar is more or less all about the views and atmosphere. As a more casual option to NoMad's popular rooftop you will have a good time at Broken Shaker.
12. Genever (Filipinotown)
Gin is on the rise, no doubt. The spirit attracts sophisticated cocktail lovers and newbies alike. It's not as strong as Rye for example and can form basis for many different cocktails. The growing popularity of gin is reflected in the opening of many new gin-centric bars. While most of these places are interchangeable, some hidden gems can be found among them. Genever in LA's historic Filipinotown neighborhood is such a pleasant exception. Opened in March 2018 and run by three female owners it has quickly established itself as the new place to go for all gin lovers. Gin and genever based drinks are the foundation of an ambitious menu. Of course, classics like a Gimlet are also part of their daily bar business. As Tinette Sumiller, one of the owners told us, it took over five years to turn the idea of a female-and-filipina-led bar into reality. With a background in finance and IT Genever's owners turned to a Kickstarter campaign to fund their dream of opening a bar in their neighborhood. Today some of Genever's signature drinks were named after sponsors just as the seats at the bar and the golden tables. Genever offers an elegant but at the same time cozy lounge setting, which may explain their success within the community. Organizing guest shifts at Genever with female industry experts, brand managers and bartenders Tinette and her combatants try to support other women and female specific issues. Roger Ebert would have given two thumbs up and so do we. If you come around, which we highly recommend, you may be in for some more surprises. Look out for the recycled bicycle chains!
Nice to meet you! Could you briefly introduce yourself?
I'm Roselma Samala, one of the three owners of Genever.
What makes your bar unique?
Several things – we are one of the few gin focused cocktail lounges in Los Angeles. And we are one of the few women-owned bars. Located in Historic Filipinotown we also offer drinks highlighting Filipino flavors. Most of all, though is our hospitality and the sense of specialness one feels upon entering.
Please tell us your favorite spirit and drink!
So that would be gin – my go-to drink is an Aviation. My favorite Genever drink is the Phone Call from Istanbul and Hello Suckers.
Any recommendations what to do in LA?
Visit the Broad and Getty Museums, sample all the ethnic foods – Filipino, Chinese, Japanese, Korean, Ethiopian, Mexican, El Salvadoran, Indian, and more that I can't remember!
13. Otium (Downtown)
The striking transformation of Downtown LA during the last years can also be experienced through fine dining and many great new bars. At Otium attached to The Broad museum both things – food and drinks – come together in an elegant modern environment. While the contemporary kitchen is overseen by famous chef Timothy Hollingsworth – once Chef de Cuisine at The French Laundry until he moved to LA in 2012 – the bar menu is the playing field of Chris Amirault. For inspirations he doesn't need to look far. Instead Chris, who was born and raised in Boston, takes ideas for new recipes from all the different cultures and places that this great city has to offer. His latest cocktail menu is an homage to legendary food critic Jonathan Gold and to some of Gold's favorite restaurants. Take for example the salty-spicy (yes real spicy) "Rivera". Made of Mal Bien mezcal, chili, bell pepper agave and ginger this cocktail takes some risks. It's not for everyone, but to us that's certainly a good thing. If you want to cool down in a second round, the damn good "Chengdu Taste" will be for you. It's a beauty of a drink with a very refreshing taste and some unusual ingredients like Beijing yogurt. Gold, who sadly passed away last summer, would have loved both of Chris' creations. For the sake of completeness, we just want to point out that Otium also offers very tasty brunch and dinner options. But as this is a bar guide, we like to give all the praise to charming Chris and his dedicated co-workers for now.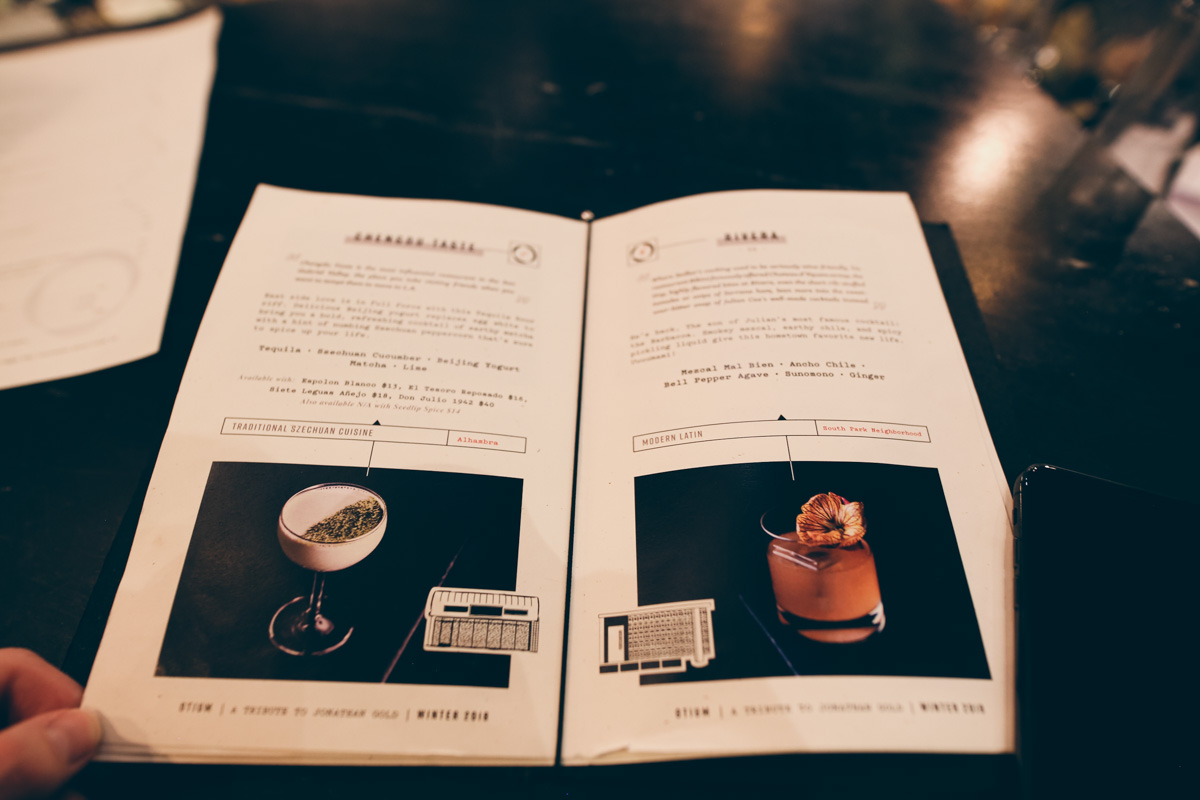 14. République (La Brea)
Coming to the amazing restaurant/bistro République by Walter and Margarita Manzke we were introduced to beverage director Shawn Lickliter, who runs République's ambitious hyper-seaosnal bar menu. Loved equally by Los Angelinos as well as by foodies from all over the country, République is one of the front-runners of a modern french-inspired cuisine based on the chef's visits to farmer markets all around the city. While this approach was copied by many restaurants – think of the whole "farm-to-table" movement – it's still quite unique with regard to its cocktail menu. Shawn creates drinks based on fresh ingredients that République's guests will also find on the food menu. His recipes change almost daily. For sure there are also some classics like République's House Gin&Tonic or the Oaxacan Old Fashioned using mezcal from small Mexican producers. But for the most part Shawn is looking beyond seasonality, making almost daily adjustments. At the time of our visit, his drinks changed discretely from winter to more spring inspired flavors. Hence most of the cocktails are named after the main ingredient so you know exactly whet you get. The "Celery" is a very popular choice, but due to our profound aversion to celery we pass. No offense Shawn! If you get into a conversation with him, you feel how passionate he is about sustainability, the freshness of the ingredients and the quality of the spirits. Together with his friend Max Reiss, who is now the bar manager of WeHo's Gracias Madre, he is also looking beyond the border for mezcal distilleries and upcoming producers. Another interesting aspect of République is the combination of a great restaurant with an ambitious bar program. That's something you will find over and over in LA. Shawn points to the characteristics of the city. As most people take the car, they don't want to drive to a bar after dinner. This might also explain why cocktail pairings are so popular. In either case – food and drinks – République won't disappoint.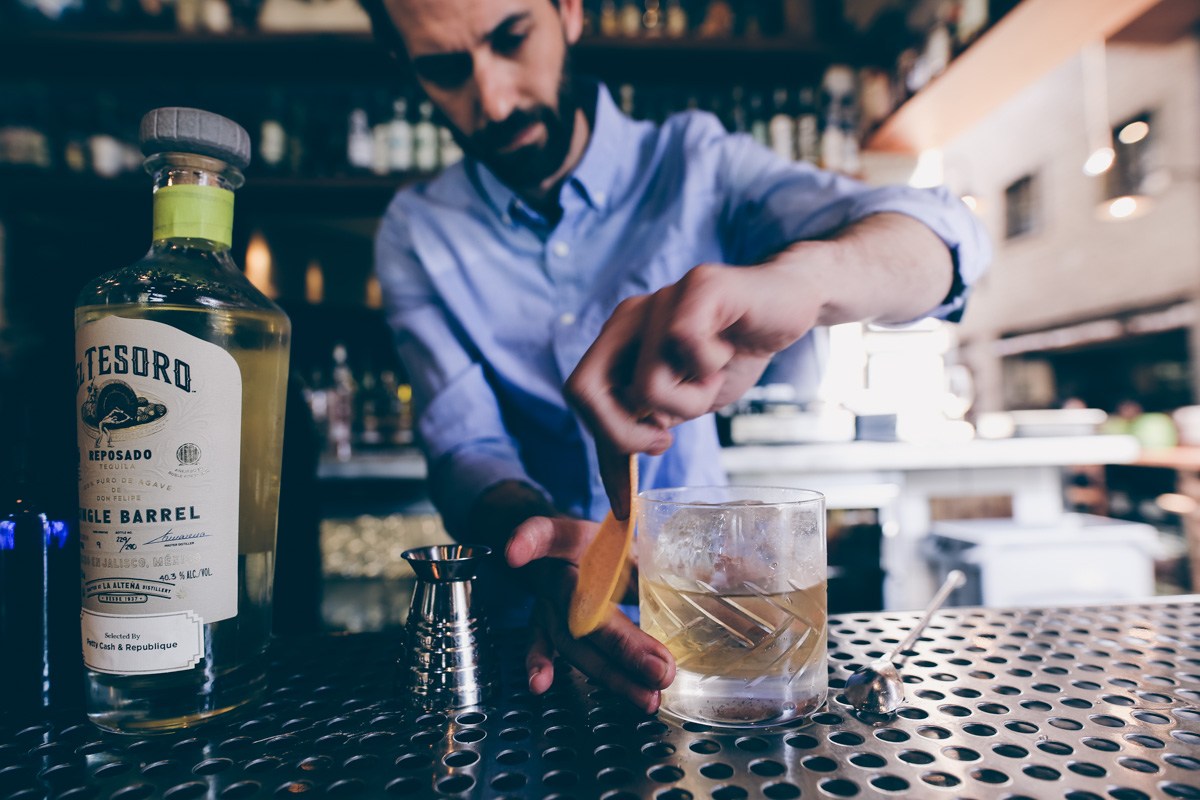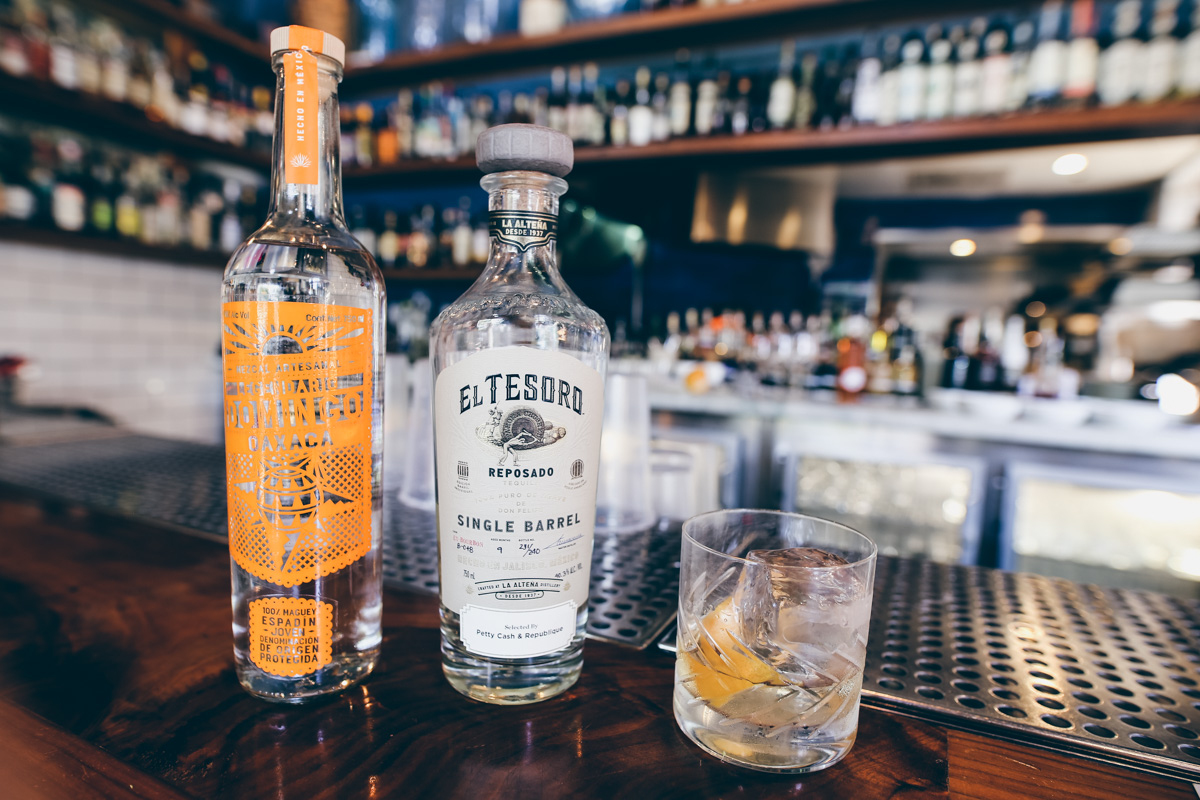 15. Big Bar (Los Feliz)
The first time we met Cari Hah was through her drinks. She created the cocktail menu for Echo Park's Bar Henry based on a three-ingredients-concept. The second time we met her in person at her work place in Los Feliz. Big Bar on Hillhurst Avenue is one half of a highly popular neighborhood joint. The other half is called Alcove, a café-restaurant hybrid with a beautiful patio and excellent breakfast/brunch options that can also be ordered from Big Bar. Despite its name this airy Californian bar is actually quite small, as Cari admits with a smile. Since many years she has been one of LA's most influential female bartenders, leading a very successful bar team. She worked Downtown at Cole's/The Varnish – an LA landmark – and did guest shifts at many other well-known bars around LA. It's not hard to see how passionate she is about her job. When asked about her personal favorite from Big Bar's menu, she politely declines an answer. "They are all my babies" Cari explains, proud like a mother of her kids. The "6:27 AM Los Feliz" blends Cari's preference for tequila with fresh, fruity flavors thanks to a balanced mix of blueberries, mint and chareau aloe liqueur. If you ever needed an excuse to start drinking at 1 PM, this is it! We recommend ordering some tasty food from Alcove while sipping this beauty of a drink. Big Bar is a place without pretense or bartender gimmicks. Instead, Cari takes care of everything. She is the heart and soul of a dedicated bar team with real craftmanship in mixology. Who cares that she claims to have bad bowling skills? While she is quite picky about drinking cocktails at other bars, she loves The Spare Room in Hollywood. That one has two bowling alleys. Just to let you know.