Everything we love comes in two parts. So here we go with the final installment of our Los Angeles bar guide. Some of LA's best bars and bartenders will cross your path. Get to know their story, their take on LA and of course their favourite drinks. As we already stated in our first bar guide, there's no need to use this text as a bucket list. Rather choose some bars that match your preferences. If you go there, you will probably find out about other interesting places. We just wanna push you a little bit into the right direction!
Above a bar called tokyo
We watched the coast where traffic flows
Selective of the drinks that we buy
We used to drink the river bed dry
You and I


– Maximo Park, Drinking Martinis
****
16. Bibo Ergo Sum (West Hollywood)
"I drink, therefore I am" is the correct translation of Bibo Ergo Sum, an extraordinary name for a modern cocktail spot (don't confuse this bar with Hong Kong's Bibo). Located in the Robertson Plaza in Beverly Grove a non-descript door with a mysterious symbol leads directly to one of LA's most stylish cocktail bars. Inspired by the award-winning movie "The Prestige" about two rival magicians (embodied by Christian Bale and Hugh Jackman) Bibo Ergo Sum takes a rather original approach compared to the majority of LA's cocktail destinations. As movie lovers in general and fans of Christopher Nolan in particular we wanted to explore this place since we stumbled upon the first pics. The elegant décor mixes Art Déco elements with an intriguing symmetry that you will probably only notice subconsciously. Fortunately, Bibo's remarkable attention to details is not limited to a sleek surface. The initial cocktail program developed by the experienced team of The Walker Inn played with themes of Nolan's Hollywood movie. That said the drinks were top-notch and visually pleasing at the same time. When we came back for the second time, the menu had changed. Divided into three sections, each representing a different era from pre-prohibition until today and even beyond, you can experience the immense diversifity of the modern craft cocktail movement at Bibo Ergo Sum. Refreshing, a little spicy and very colorful – with this attributes the gin-based "Cadillac Swizz" became a crowd pleaser, as bartender Alex told us. The spirit selection is broad-based, so everyone should find his personal favorite. Of course you can always opt for the "Bartender's choice" and let Alex or his colleagues decide for you. While we were slowly sipping at our drinks, the unique atmosphere caught us once again. But in contrast to Nolan's "The Prestige" this bar doesn't rely on special effects or cheap Hollywood tricks.
17. Here & Now (Arts District)
Los Angeles is always changing. The revitalized Arts District can be seen as a manifestation of such fundamental changes. The opening of new galleries, stores, restaurants (like Bavel) as well as the construction of whole apartment buildings contributed to the momentum of that area. Cocktail lovers will also find a real gem in the Arts District. We are talking about Here & Now in the One Santa Fe complex. Until 2018 a bar called Westbound that took some inspiration from the history of the site as a train depot operated in the same spot. Westbound's owner later joined forces with one of LA's most respected barteams. Damian Diaz, Aaron Melendrez and Othón Nolasco made places like Everson Royce Bar famous. Even though they also worked as industry consultants, they never lost their passion for bartending and the daily bar business. It's probably in their DNA just as their qualities as hosts. Some things are hard to learn, because they are more part of a mindset or an attitude. For Here & Now Damian, Aaron and Orthón took the established Westbound setup and refined it with their own ideas. Backed by a highly passionate barcrew their take on a modern cocktail place is based upon premium drinks with a "less is more" approach, a cozy environment and strong ties to the community. Despite the instagrammable interior Here & Now is not satisfied with its nice outward appearance. The drinks are at least as great as the Art Déco inspired design. Their cocktail menu titled "Los Angeles in three centuries" starts with some aperitifo drinks and continues with real boozy ones like the Old Fashioned inspired "Holy Ghost" or the equally elegant "Zanjero" made of Ilegal Mezcal and Lustau vermouth. Chapters like "Newest city in the world" and "Time of our lives" feature Here & Now twists on beloved classics as well as some very sophisticated contenders. The "City Lights and Business Nights" adds Fernet Branca and a dash of banana flavor to a Manhattan. If you somewhat like Manhattans, you will love this drink! Finally, we won't keep quiet about their food. With a full kitchen open until 2 AM, this place has more to offer than usual bar snacks. We heard a lot of praise about their signature burger, so perhaps it was a bad decision to have dinner elsewhere. In any case, the roasted peppers with sea salt and aioli came close to the definition of food porn. Please guys, what about opening an outpost in Germany? Otherwise we would come back to LA just for you.
18. Here's Looking at You (Koreatown)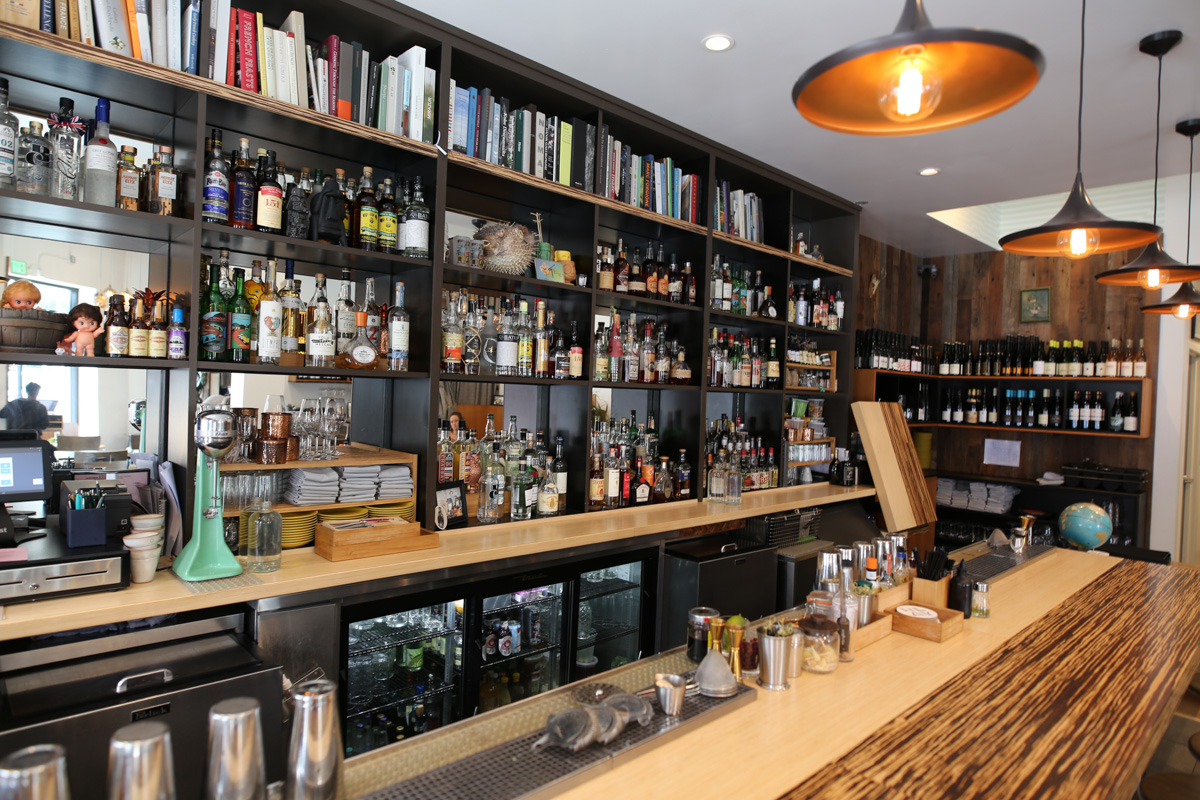 In LA you don't have to decide if you want to go to a good restaurant or a fine bar. That is to say both things can often be found in one place. Here's Looking at You in K-Town (the name is a reference to a famous quote from the award-winning Hollywood movie "Casablanca") lives up to that promise and to the buzz surrounding its streetwear loving chef Jonathan Withener, who was once the mind behind the great meat-centric dishes at Animal. Together with his "partner in crime" Lien Ta, also from Animal, he opened HLAY in an area that was the old Hollywood a very long time ago. As this is a bar guide, we don't want to go into details about HLAY's flavorful food menu. We will get back to Jonathan's outstanding culinary skills in our LA Food Guide. Just allow us to say that HLAY's brunch is probably the best we had in LA. For most folks, common brunch choices are a Mimosa or a Bloody Mary. Although we have seen both drinks here, bar director Harry Chin clearly aims at more ambitious and exotic creations. For brunch he came up with some strong Tiki drinks. Did you know that Tiki drinks and Tiki culture were both invented in LA and not on an exotic Polynesian island? Harry's last fall/winter menu showcased a dozen drinks that each on its own was inspired by a different piece of LA, using seasonal ingredients and a playful attitude that can also be found in HLAY's interior design. The gin based "The Shape of Green" is a wonderful homage to movies like "Carol" and "The Shape of Water", where the color green plays an important visual role in storytelling. Needless to say, that this idea caught our hearts just as the rich flavors did.
19. Bar Henry (Echo Park)
The most pleasant surprises are always the unexpected ones. We hope you don't mind this linguistic failure, at least you might get an idea of what we wanted to express. When we strolled around Echo Park, we stumbled upon this cozy neighborhood joint called Bar Henry. With its green facade and small neon lighting it really made an impact on us. The interior is even more charming thanks to a wooden floor, the bar counter made of walnut, some plants and a very subtle use of warm colors and lights. In addition, the fine selection of spirits caught our eyes as soon as we entered the bar. Bar Henry's signature cocktail menu with a focus on mezcal and tequila was created by Cari Hah, one of LA's most famous and respected female bartenders. It's therefore no surprise that the drinks – all based on a three ingredients concept – can keep up with the overall design. With most cocktails in the 13-14 Dollar range, the pricing seems quite fair for LA. As Bar Henry's co-owner Brett Rubin explained to us, the goal was to establish a new neighborhood bar. Built up from scratch and opened in late 2018 Bar Henry quickly became a favorite among locals. It's not hard to imagine why. The drinks are crafted and well-balanced (the mezcal based "Flattened Priest" is a real crowd pleaser as Brett revealed to us), the vibe is cool but not too fancy and the bartenders are very knowledgeable. Despite zero PR activities so far and without any Happy Hour deals that usually attract many bar tourists, the spot on Sunset Boulevard has already found many patrons, who come around for a drink and a chat with friends at least once a week. The last one is probably the ultimate proof of concept for every good neighborhood bar. Bar Henry demonstrates without the slightest showy attitude how to create a pleasant bar experience. What might sound trivial, is actually a daily struggle for most other places.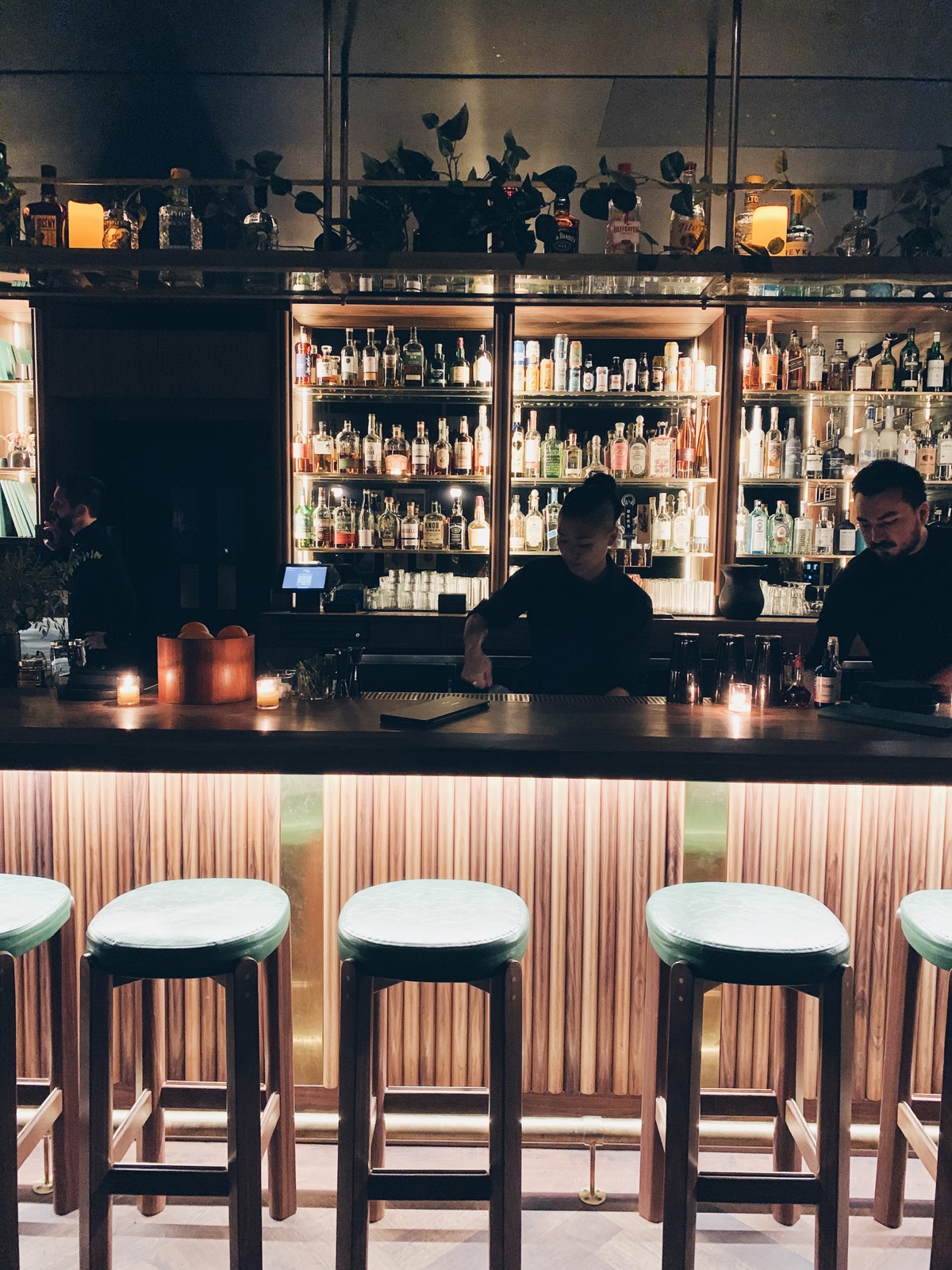 20. Block Party Highland Park (Highland Park)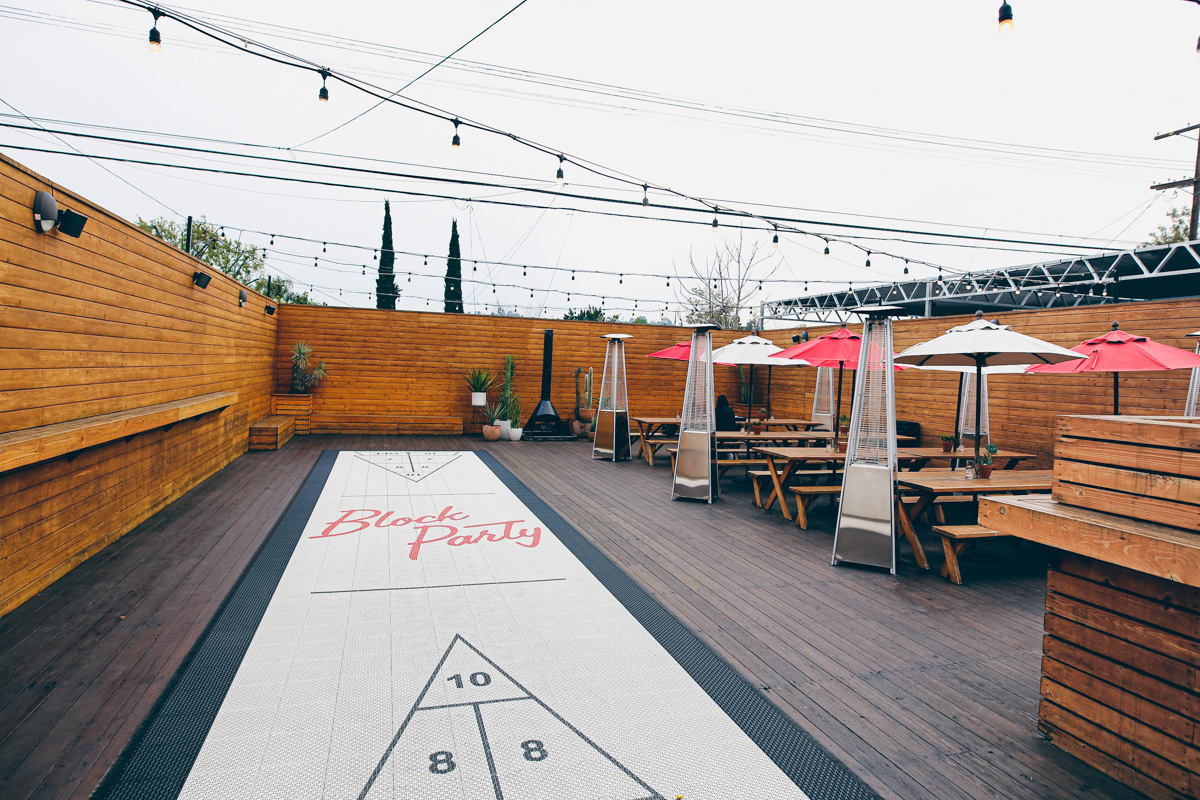 Only some years ago Highland Park was one of LA's neglected and overlooked neighborhoods. The area wasn't associated with great bars or restaurants. Apparently, things have changed. To some extent this change can be traced back to people like Jason Eisner, who made Highland Park a very hip and famous place. Especially on the weekends York Boulevard and North Figueroa Street convert into a lively outdoor party with food trucks and lots of entertainment. In 2015, Eisner, who had already been distinguished as "LA's Bartender of the Year" in the same year, opened Block Party in Highland Park. The main idea was to establish a neighborhood spot, where people could come together and just have a good time. Besides the craft beer and Mexican focused bar menu, Block Party offers a big back yard patio with a shuffleboard field and wooden benches. Eisner evidently wants everyone to feel welcome already upon entering the bar. An important part of Block Party's concept are the mostly vegan food pop ups on York Boulevard. People can bring food to Block Party, which is a really nice touch. Jason introduced us to Evanice Holz, who is already famed in LA for her vegan Cuban and Brazilian dishes (she also has German roots as you may suspect given her family name). Even if you're usually not into vegan food, you should try Evanice's "Arroz sin pollo", or her equally tasty sandwiches. But don't blame us afterwards for getting you addicted to vegan food! Honoring Mexican influences and culture, Eisner's bar crew created an excellent Michelada, a beer-based drink with home-made Habanero bitters and a salt crust. Or how about the Highland Punch snowcone? We've been to many great bars, but only a few can compete with Block Party's hospitality – a true neighborhood gem.
Nice to meet you! Could you briefly introduce yourself?
Hi! My name is Jason Eisner and I am the owner and founder of Block Party Highland Park and Party Beer Co (opening in June 2019).
What makes your bar unique?
Block Party Highland Park is a Modern Beer Garden and Bottle Shop, which means you can taste our craft beers and small production wines on sight, or even take them to go! We have some of the most beautiful beer and wine cocktails in LA. My favorite is the Michelada con Paleta, which comes with a salted heirloom tomato and watermelon popsicle.
Please tell us about your favorite spirit and drink!
I'm really a Pilsner drinker, but my favorite spirit is Mezcal Tobalá and my favorite cocktail is a classic Negroni.
What bartender should we meet next?
You have to meet Chris Amirault, Karen Grill or Gabe Huerta.
Any recommendations what to do in LA?
Yes! Get some Plant Based donuts at Donut Friend in Downtown Los Angeles and then go play at Two Bit Circus Micro Amusement Park or drive out to Malibu and go to Leo Carillo Beach.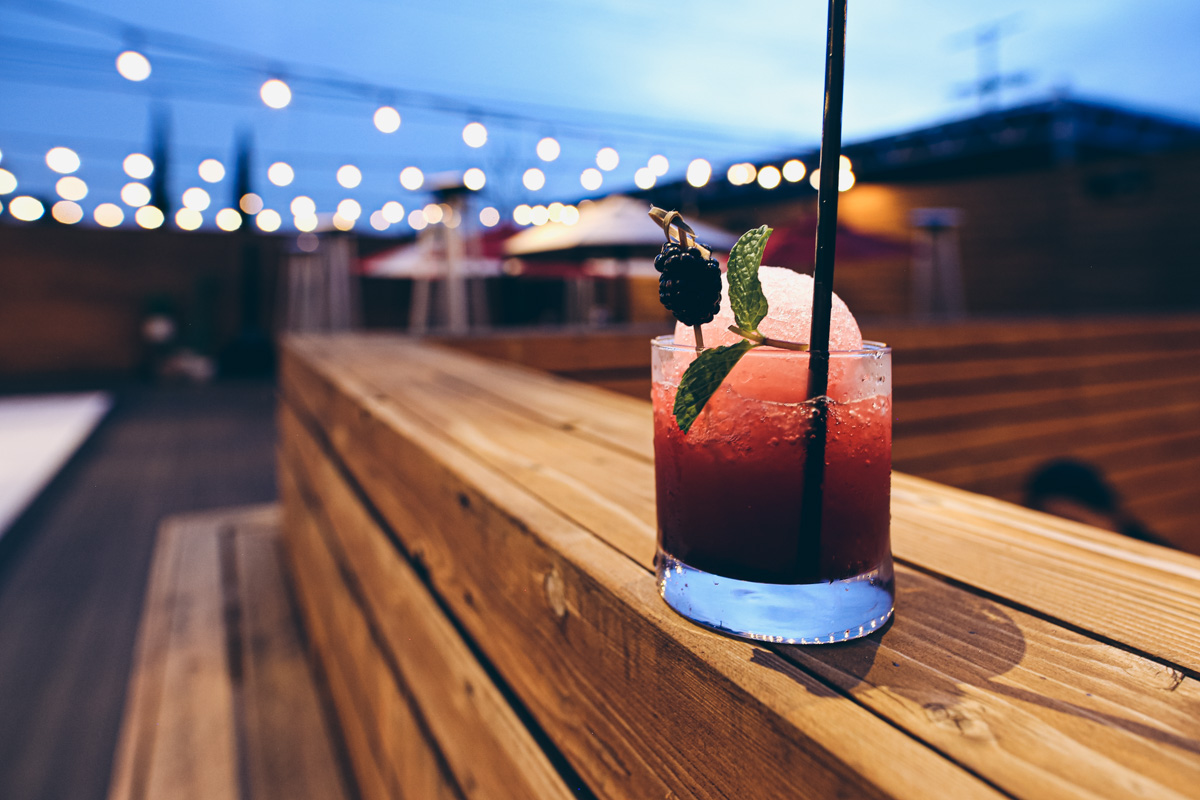 21. Seymour's (Palm Springs)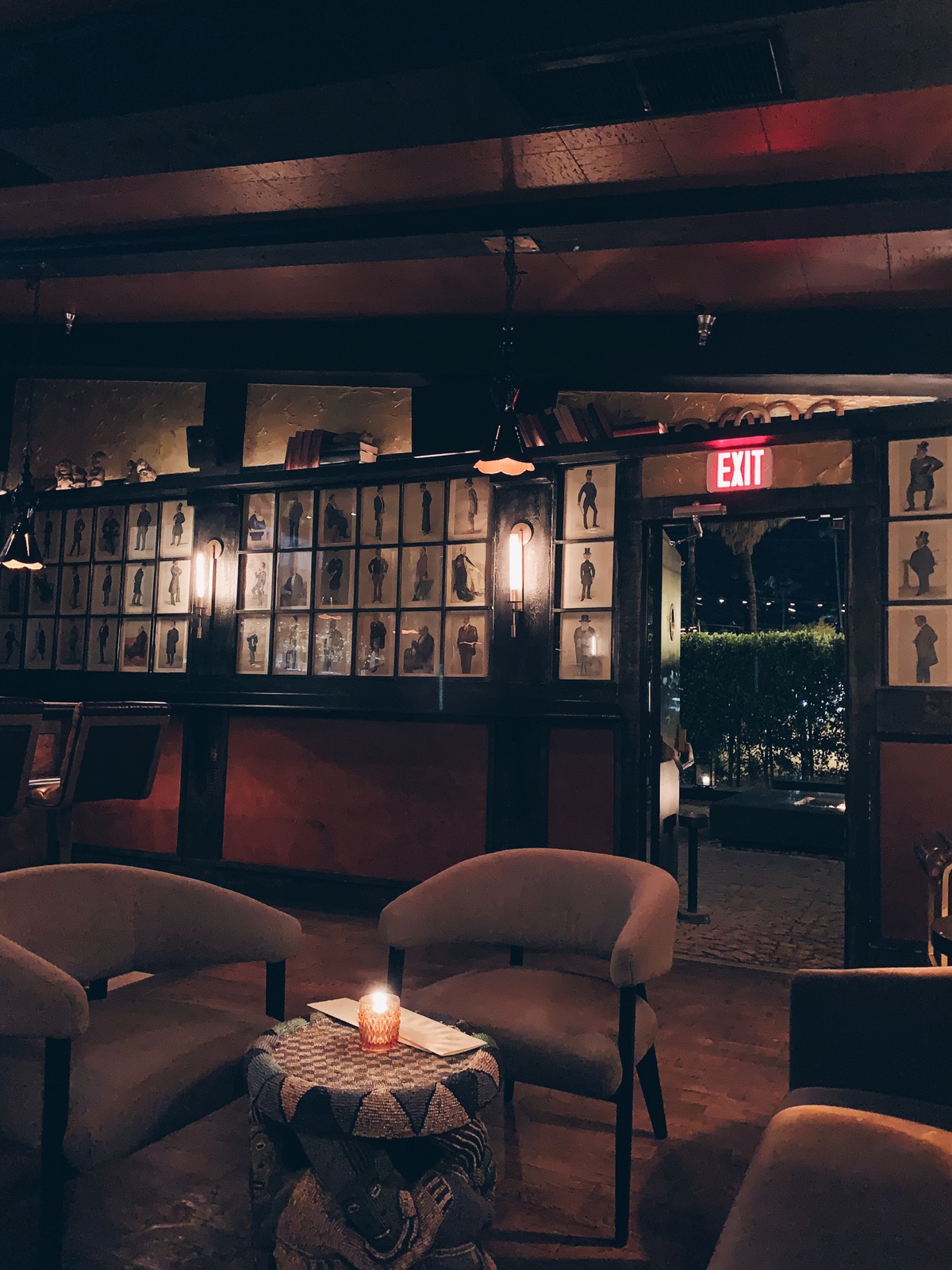 From a European perspective it makes sense to feature some bars from Palm Springs in an LA bar guide. We guess people from Palm Springs may disagree. It's a two-hour drive after all and a completely different vibe compared to the hustle and bustle of LA. Palm Springs is famous for its many senior citizens, a big gay community and its mid-century architecture — we consciously skip the part involving bachelor/bachelorette parties. But perhaps the city should be on a bar map. One good reason for this is Seymour's, the backroom bar of Mr. Lyon's Steakhouse. While we highly recommend dinner at this elegant restaurant and trying their 16oz NY strip steak (you better be hungry), we would really like to praise the indisputable qualities of Seymour's as a classic speakeasy venue hidden behind a black curtain. The bar itself is quite small, equipped with many details worth mentioning, such as the hand-crafted tables partly made of conches and a television showing movies or TV series exclusively in black-and-white. The latter adds much to the bar's unique atmosphere that won over our hearts. Seymour's is also emitting some Tiki vibes although it's very far away from your usual Tiki bar expectations. Seymour's owner Steen is a Kiwi with a Danish father, a rather uncommon combination. His recommendation to order "The Owl" – Seymour's signature drink named after their logo – was the right decision. We can hardly say no to an Old Fashioned and therefore this Old Fashioned inspired drink made with Rittenhouse Rye whiskey and walnut liqueur was superb and truly to our taste. "The Owl" is also the perfect after-dinner cocktail. Besides all the beloved classics bartender Felix also knows how to please the more open-minded imbiber with a gin-avocado-drink called "Wait…what? Avocado?". It's totally up to you!
22. Bootlegger Tiki (Palm Springs)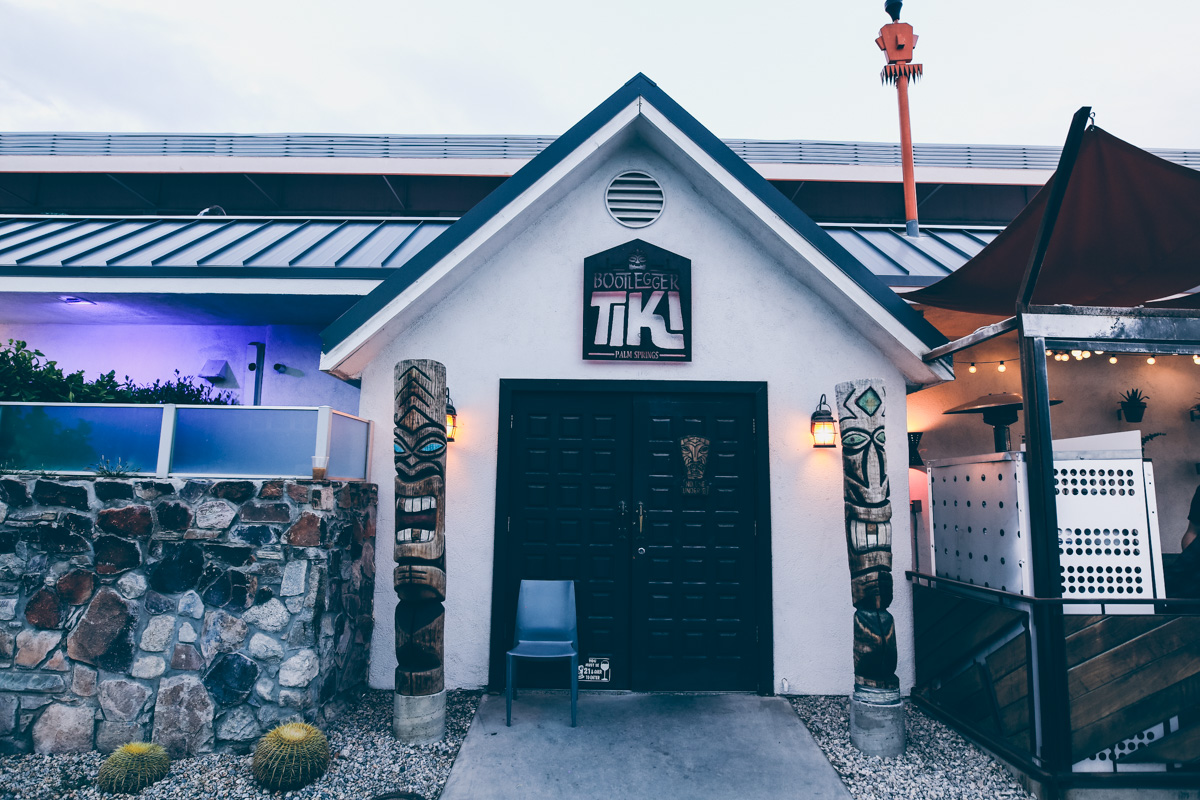 While this is not the first Tiki entry in our bar guide, we'd like to dip into Tiki history at this point. As mentioned earlier the first Tiki bar opened in Hollywood. Don the Beachcomber and its owner Ernest Raymond Beaumont Gantt became legends. In the early 1950s a Tiki outpost was established in Palm Springs. Many celebrities like Frank Sinatra and Bob Hope, who both had homes in the desert, were regular guests at Don the Beachcomber. On that historic ground, Bootlegger Tiki and its associated café Ernest Coffee opened 2014 with a straight-forward Tiki concept. As soon as you walk into the small bar you feel totally Tiki thanks to the dimmed red light and many Tiki props. You can spot an old Don the Beachcomber poster, pufferfish lanterns hanging from the ceiling, holiday postcards, Polynesian/Chinese artwork and of course lots of bamboo. Starting with the bar chairs and also covering large part of the walls, bamboo is all over this place that recreates the setting of a small hut on an island somewhere in the Polynesian sea. In this regard Bootlegger's entrance works as a wormhole. At least we felt teleported into another dimension. Carlos and Tony –the bar managers – are really passionate guys. They don't treat the whole Tiki approach just as a gimmick or an ad tool. Instead they feel obligated to the history of this special place. That is why Frank Sinatra's favorite drink ("Navy Grog") is part of the menu. Many Tiki drinks lean towards rum, but there are also some nice mezcal and bourbon choices. Despite its name the smoky "Luck be a Lady" is a drink equally popular with both men and women. The "Dealer's choice" gives the bartenders some room for creativity. You choose the spirit, they'll do the rest. We're pretty sure that you will like the outcome. In the end forget about Hawaii, just come to Palm Springs!
23. Truss & Twine (Palm Springs)
Even though we are still in Palm Springs, this modern and sleek venue feels like a whole different planet. Truss & Twine shares the space with a well-known restaurant called Workshop Kitchen that is recognized by gourmets from all over California. Located in the historic El Paseo Building, the bar looks like a minimalistic fantasy. Concrete-lined walls, high ceilings and exposed trusses (hence the name) create a very modern but not clinical atmosphere. The lighting is warm and the music adds a relaxed vibe to the overall very minimalistic bar décor. Instead of feeling uncomfortable, you will experience the exact opposite. The highly entertaining bar crew makes sure that every guest is treated with incredible hospitality, listening and responsiveness to their individual preferences when it comes to spirits. So, if you don't find your favorite drink on the classics-inspired menu, just tell Nathaniel and his colleagues what kind of flavors you like. In our case they created a Gimlet/Brooklyn combo. Both drinks managed to exceed our already high expectations. Now we know why Truss & Twine earned a reputation as a first-class destination for classic drinks since opening two years ago. We should also mention their original cocktails. Truss & Twine's recipes sometimes leave the familiar route, exploring new directions and flavors. As Michael Beckmann, Truss & Twine's owner and initiator, is also the owner of Workshop Kitchen, it doesn't come as a surprise that they focus on both food and drinks. Shame on us that we already had dinner and couldn't taste their probably delicious chacuterie or cheese boards. Truss & Twine's attention to craft cocktails made of high-quality ingredients would succeed not only in the desert. This is a bar that keeps up with the big names in New York, London or Tokyo in all aspects.
24. Break Room 86 (Koreatown)
Some people need no introduction. If you are working in the hospitality industry in LA a name will sooner or later cross your path: The Houston Brothers. They built a bar empire from scratch. Places like Cuban nightclub La Descarga, the Hollywood hotspots Dirty Laundry and No Vacancy as well as the 70's-inspired Good Times at Davey Wayne's are all part of their company. For the perhaps most interesting Houston Brothers establishment, partygoers have to do their homework. The first hurdle is to find the hidden entrance of Break Room 86 – it's on Ardmore next to The Line Hotel –, the second is their door policy. On the weekends, people queue up around the block, so we suggest to come around on a Wednesday or Thursday night when they play classic 80s/90s songs and have cover bands for live performances. But even during the week this wonderfully weird place gets crowded after 11/11.30 PM. Like we said it's a Houston Brothers venue and therefore very popular by default. As you enter Break Room 86 through a loading dock you travel back in time. Every amazing detail of this place reminded us of our youth. There were so many awesome ideas incorporated in the design of the bar, it's impossible to name them all (and it would spoil the party). From the secret karaoke rooms and the arcade games to the adjustable bar that can be turned into a stage, guests of Break Room 86 can expect an almost endless series of surprises. What could have become a Disneyland kind of bar with a kitschy retro décor is fortunately a real bar with authentic 80's (party) vibes. After taking us on a private tour, bar manager Avery introduced their cocktail program to us. Named after various 80's references the drinks spark the same fun vibes. The "Jack Burton" is a little spicy Old Fashioned iteration, the "Run-DMC" equals a creamy temptation. Our favourites were however the mezcal-based "Locals Only" and the very refreshing "Mr. Miyagi" made of Japanese whisky and watermelon shrub. Break Room 86 may be first of all a great party bar, but these guys are also quite serious about their drinks.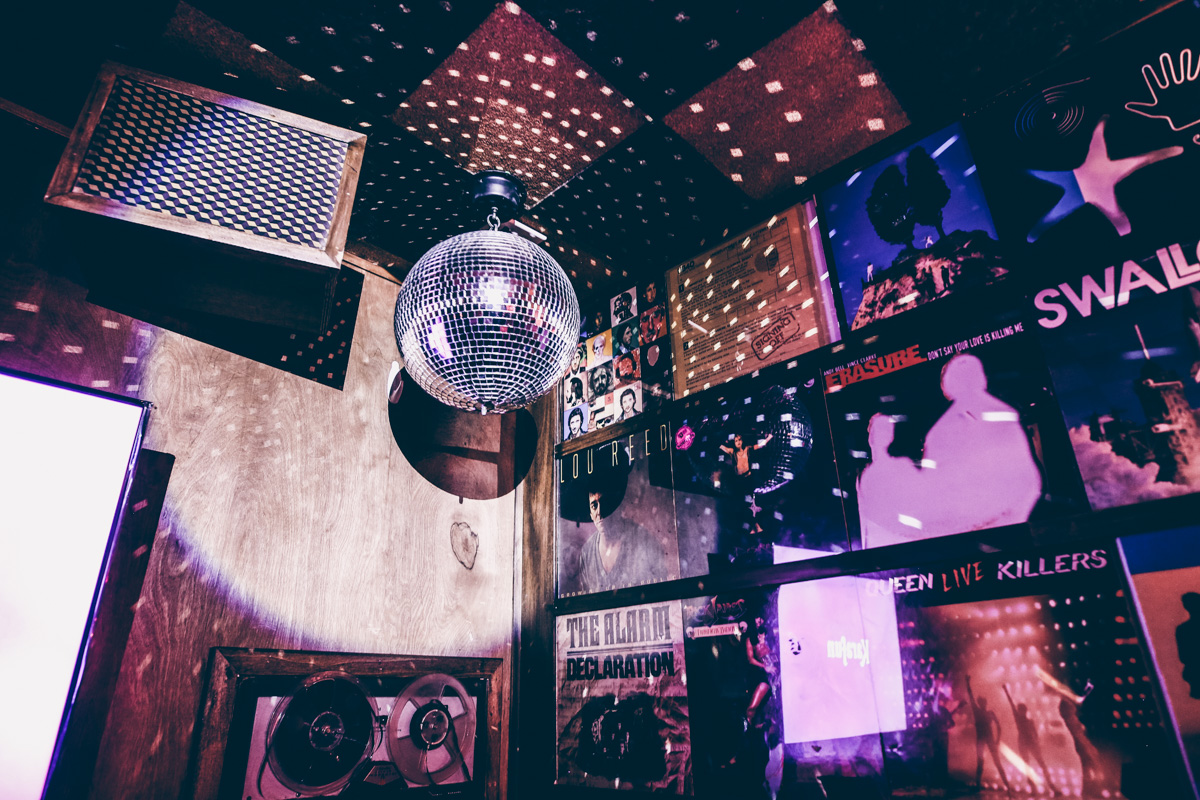 25. The Varnish (Downtown)
When you talk with bar chefs or bartenders about their favorite places, chances are high that you will hear one name sooner or later: The Varnish. Now in business for over 10 years this downtown staple does serious drinks without any false gimmicks. Bar chef Bryan and his crew earn their reputation night after night. The Varnish, tucked away in the backroom of Downtown's infamous Cole's French Dip restaurant (just look up who met here back in the days), is open 7 days a week from 7 PM until 2 AM. With only some tables and quite a small bar front you have to be somehow patient to get a seat. Or perhaps it's your lucky day? As the house rules point out, it also takes some time to make a proper drink. Instead of bartending by the numbers every cocktail deserves the same intention, whether you choose one of the Varnish's signature drinks – their cocktail menu is pleasantly straightforward – or if you ask for a classic like the Manhattan. Another way to experience this low-lit bar with its speakeasy vibes is to let the bartenders decide what they can get for you. In the second round we just went along with one of Bryan's favorite drinks, the Martini-based "Poet's Dream" – a wise decision. Both The Varnish and Cole's are prototypes of old-fashioned places, where time stands still and you can dip (pun intended) into the good old times for a night. The total package simply works. It's the combination of knowledgeable bartenders, a classic speakeasy atmosphere, live jazz music playing and the rich history of this place that makes this little backroom bar a pleasant destination for all cocktail lovers in LA. And even some Tinder dates seem to have fun at The Varnish.
26. NoMad (Downtown)
Some names don't need an introduction. For a luxurious stay the five-stars-rated NoMad hotels are always a safe bet. While the elegant rooms require a solid budget, having a drink at one of NoMad's award-winning bars is obviously more affordable. The historic building in Downtown LA – once commissioned by Italian banker Amadeo Giannini for his corporate headquarters and now home to NoMad's LA branch – is impressive from the outside and even more impressive from the inside. Next to the main lobby the Giannini Bar awaits cocktail lovers in an elegant, yet not too formal setting. There is also a rooftop bar offering a nice view over Downtown and a more casual daytime coffee bar with limited cocktail options. Although you are aware of NoMad's history and decadence when taking a seat, the bar team does a great job in making you feel comfortable. We had an appointment with Iluggy Recinos, a passionate bartender with a serious addiction to kicks. When we asked him for his favorite drink, he was struggling to come up with an answer. There are way too many, he told us smiling. We know how he feels. It's like someone would ask us: "What's your favorite pair of sneakers?". Since we weren't in a mood for heavy drinking at 3.00 PM – call us amateurs – we followed Iluggy's advice for a more refreshing option. The "Foxtrot" is a whiskey drink with a fruity twist thanks to a trio of orgeat, lime and passionfruit. Even people who usually avoid whiskey cocktails, will love this creation by NoMad's famous bar director Leo Robitschek. He and his team won the award for "America's Best Bar Team" in 2017, while NoMad's New York bar was rated as "Best Bar in North America". The Giannini bar proves anybody wrong, who believes the sequel can never be as good as the original. Sometimes the best can be found at two places at the same time.
27. Melrose Umbrella (Melrose)
A bar that feels like home, perhaps like your living room or just like a hangout with many good friends. To us, this idea comes pretty close to the perfect neighborhood bar. It's no coincidence that the people who run Melrose Umbrella in Los Angeles' famous Melrose shopping district wanted to establish a social cocktail experience in a laid-back environment. Everybody is welcome here (as long as you follow the "House Rules" printed on the last page of their menu) and everybody can truly enjoy the best drinks without the slightest pretentious attitude. Neither do you have to be somebody else, nor do you need to impress anybody. Melrose Umbrella that also operates as a café serving breakfast, bagels and lunch specials attracts a mixed crowd of all ages, many locals and regular guests. You will meet people who simply enjoy a good beer as well as the "serious" cocktail guy. Despite being German we would reckon ourselves among the second group. The latest edition of their cocktail menu features new drinks by co-owner and award-winning bartender Zach Patterson and of course some beloved Umbrella classics from previous menus. As beverage director Scott Eton told us, the smoky "Mezcali Me Banana" is still their top-seller. Every lover of a good Old Fashioned should try the "White Old Fashioned" made with mezcal, yellow chartreuse and crème de cacao. The quality of the drinks is top-notch. They only use premium spirits, homemade syrups and tonics as Zach pointed out. These guys are really ambitious, taking care to dot all their Is and cross all their ts. The carefully arranged interior with the old wooden apothecary cabinet now serving as the back bar adds much to the warm atmosphere. Live music and alternating events confirm Melrose Umbrella's standing among LA's best neighborhood bars.
28. The Friend (Silver Lake)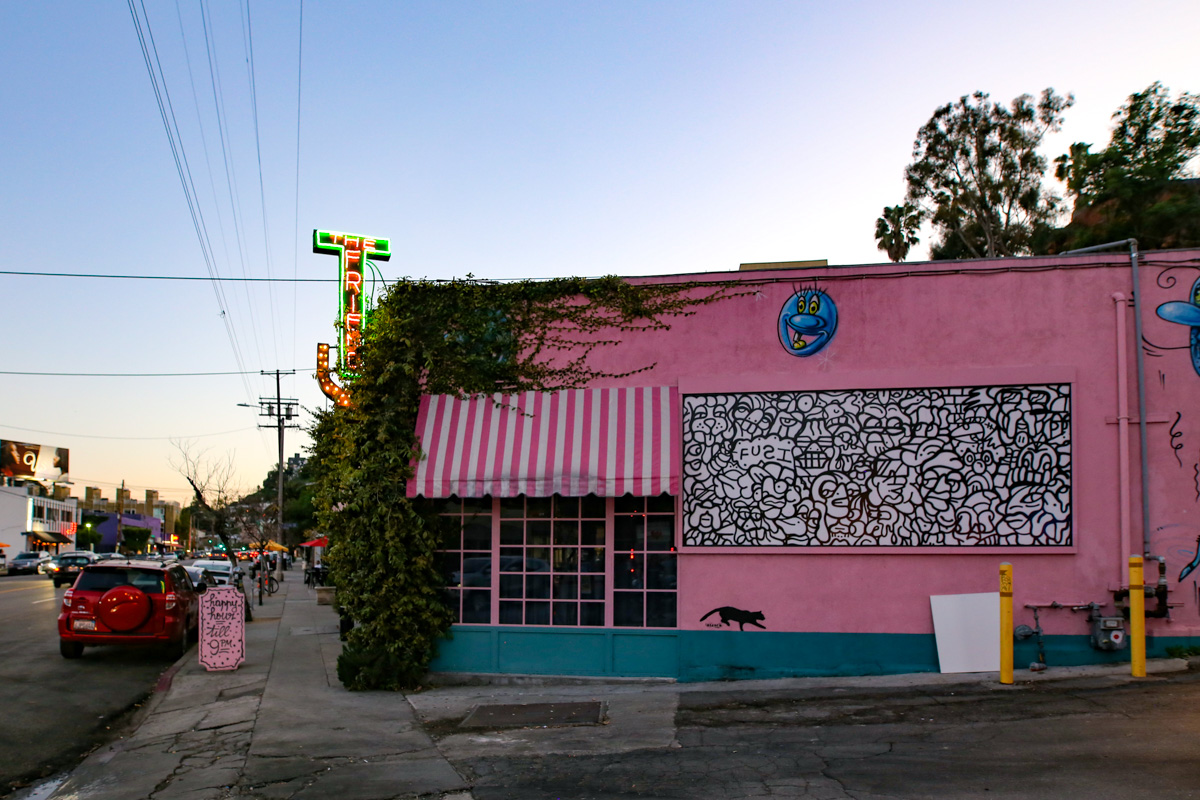 Neither should you judge a book by its cover, nor a bar only by its design. In the end it's all about the drinks, the atmosphere and having a good time. If those three things come together, you have a winner. But of course, by definition there can't be a second attempt for a first impression. The Friend knows about that crucial moment, trying to attract you with its colorful neon signs, pink candy packaging and eye-catching street art. Once inside, your senses are stimulated by a bright 50's diner-theme, more street art and many subversive details. It doesn't come as a surprise that graffiti artist Andre Saraiva is behind The Friend's visual concept. He is also one of the three owners (Mickey Madden and Jared Meisler being the other two). Some of Saraiva's best friends like famous painter Kenny Scharf contributed colorful artwork to The Friend's valuable memorabilia. After your eyes have adjusted to this exceptional design dream it's time for some serious drinking. William Cutting is The Friend's bar manager – yes, it's his real name – and also responsible for the imaginative cocktail menu named after different personas like "The Dancer" or "The Hustler". The former is the most "instagrammable" drink and it's obvious why. But getting back to the beginning the creamy yet refreshing Dancer made of two sorts of gin and filled up with bubbling Champagne is fortunately no show-off. "The Hustler" gets more and more spicy over time as the Habanero flavor slowly infiltrates the mezcal base of this very LA-like cocktail. We hope that mezcal will get more attention in Europe besides the usual tequila shots. The Friend finishes as a strong and at the same time quite different entry to this bar guide. With its nontypical décor and vibrant DJ sets it is geared towards a younger more party-oriented audience. So, if you are in a mood for a dance and a drink, don't look any further!
29. Sonny's Hideaway (Highland Park)
Let's get things straight: This is our favorite bar in LA! It's not located in the trendy Arts District or in hipster-paradise Silver Lake, not in Hollywood or in Beverly Hills. Sonny's Hideaway found a home in thriving Highland Park. When the bar opened its doors for the first time in 2013 that area was one of LA's most notorious neighborhoods that people avoided. But things have changed considerably. Today, Highland Park is an immensely popular destination for bar people, cocktail lovers and everyone who wants to have a good time. To some extent this is the merit of the great guys from Sonny's. Owner Derek Lyons and his bar manager Jon Navasartian run a new American restaurant with an ambitious bar program. Besides the usual suspects – they make all the classic cocktails for you – and a special menu for "Tiki Tuesday" Jon and his crew are constantly working on their own signature drinks. Some of them were inspired by other guests (like the pictured "Four Mary", a Bourbon drink with delicious Pear Brandy and Amaro), some by stories around the bar. We ordered several drinks and all of them were first class. The "Curbside" may not be a typical LA cocktail, but we don't care. The mix of calvados, gin and génépi (a traditional herbal liqueur) creates a drink to remember. Served up it is intense, well-balanced and very flavorful. It's also possible that you will spot a drink called "Extended Stay" on the menu pretty soon. While we praise Jon's cocktail program, we'd like to mention the overall atmosphere at Sonny's. With its charming retro interior, the oversized leather booths, dark lighting and terrific music selection (Arcade Fire, The Black Keys and Arcade Fire again) this place does everything right. It's a hidden gem that everyone should discover with an open heart. It will stay with you for a very long time.
Nice to meet you Jon! Could you briefly introduce yourself?
I'm an L.A. native that's been in the hospitality industry for 20 years, bartending 15 of those years. I first wanted to become a chef, influenced by my grandmother, but happened to work front of the house. I couldn't see myself doing anything else.
What makes your bar unique?
I wouldn't say that Sonny's Hideaway is unique, but rather special in multiple ways. I was a patron before I got a job with Sonny's because I fell in love with the bar s30.taff and the quality of cocktails. I could wax poetic about this subject for a while, but to keep it short I'll give you the short answer. The back bar is very thoughtful, relatively extensive and reasonably priced. Our drinks are creative, seasonal, and approachable and always consistent. I can't stress this more, but the best part of the bar is our hospitality team. Everyone that works behind the bar or taking tables are all consummate professionals that are knowledgeable, inviting and talented. I feel very fortunate to work with such a great crew.
Please tell us about ur favorite spirit and drink!
Spirit forward I'd say a Brooklyn is one of my favorite cocktails and citrus, a Daiquiri made with rhum agricole is up there. If I'm sipping on a spirit I'd have to say bourbon is my favorite category, Larue Weller to be specific.
What bartender or bar owner should we meet next?
You definitely have to meet Max at Gracias Madre. He personifies hospitality with his knowledge and warmth of personality.
Any recommendations what to do in LA?
This is easy! Come to Sonny's when in LA!
30. The Streamliner (Downtown)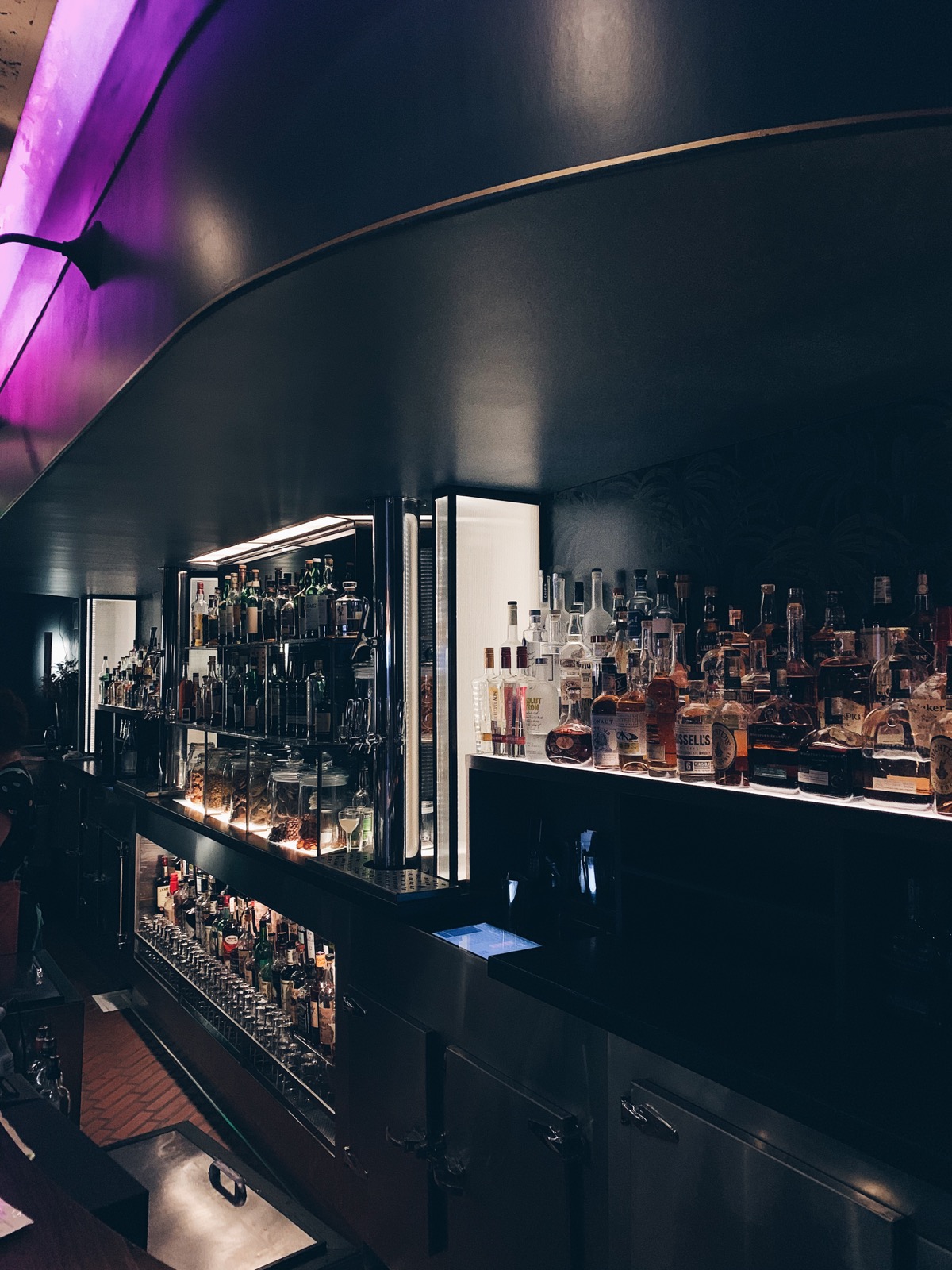 LA's Union Station in Downtown – almost at the edge of Chinatown – is a stunning piece of architecture with an eventful past. You can feel history here. To the right of the main entrance in the former Harvey House space a renovation worth mentioning occurred during the last year. Overseen by the experts of the AvroKO design company a huge space – The Imperial Western Beer Company – with two bars and different food stands was established. While it seems impossible to miss that gigantic hall, one could easily overlook the small attached venue called The Streamliner (Bar). Both concepts were developed by LA's 213 Hospitality Group that operates more than 30 venues in the Southwest. 213 Hospitality is one of the big players in this space. We know what you might think now! We don't like soulless franchises either, but The Streamliner is not a copycat or just another copy-and-paste-project. It's rather unique for a number of reasons. First of all, the Art Déco inspired design stands out thanks to a host of thoughtful details and an intriguing color scheme. Despite the narrowness of the space there's nothing claustrophobic to it. You just take a seat in one of the booths and enjoy your drink. Even before we could say anything good or bad about the drinks, we had a crush on this space. The atmosphere and a superb music selection (from 90's synth-pop to modern electro dance tracks) add up to a perfect match. As bar manager Max explained to us, the biggest challenge at the beginning was to achieve a consistent quality. In addition, they charge you only $8 to $9 for a drink all night, every day. If you now expect diluted or mediocre drinks, you're completely wrong. Instead they try to achieve a zero-waste policy, focusing on efficiency and only a couple of classics. So, their selection may be limited compared to other bars like The Varnish, but when they do a Gimlet or an Old Fashioned this is nevertheless serious drinking.