08 Mai

Sneakerzimmer meets Ed Tinoco Chef de Cuisine of Next Restaurant – Chicago

The best things in life often don't happen according to plan. While this might sound a little trite, it is probably true. When we visited Chicago last month, we had of course some people and places on our bucket list. We wanted to check out some stores, eat at some fine restaurants and generally have a good time. While we managed to achieve all of this, Chicago really won over our hearts once again and despite some late onset of winter, it was a chance encounter that turned into the highlight of our Chicago trip. Michael, one of the owners of Notre, asked us if we were interested in meeting Ed Tinoco as his story bridges the worlds of fine dining and sneakers, two things we are tremendously passionate about as Micheal already knew from our blog and a brief chat. We didn't have to think twice. Of course we couldn't wait to meet the guy that became Chef de Cuisine at the famous Next Restaurant, owned by Grant Achatz's Alinea Group – Chicago's most famous and respected culinary institution (you should check the "Chef's Table" epsiode about Grant on Netflix).
What was even more impressive: Ed was promoted to Sous Chef and later Chef de Cuisine at the age of only 24! We guess he must have worked his butt off and be more than just a talented guy. If he achieved this at Next that already won the respected James Beard award as Best New Restaurant in America (among many other awards), then this is proof of his outstanding skills as a chef. But being a great chef and an interesting person might sometimes be two separate things, so we were really curious to find out what that guy is like. As Michael told us, Ed considers himself a sneakerhead. So we could probably chat with him about some nice kicks. But there's much more to his story.
We met Michael and Ed in the lobby of our hotel. Our first impression: Wow he's really that young! Even though we knew about his age we were still quite impressed. Ed, with artful tattoos, wearing a black leather jacket and a pair of Off-Whites could also be mistaken for a tattoo artist or a member of an indie rock band. Or perhaps he's actually a fashion designer? No, Ed is a chef as we already told you. And he provided the evidence when we walked to his workplace at Next (which was literally next to our hotel). There we caught not only a glimpse of the kitchen but also of the chef's table and the impressive dining room with colorful graffitis on the walls. His job routine characterized by long hours and hard work. Ed and his team were working on the new menu which usually changes every three months at Next. In the past they did a Hollywood themed menu or an hommage to French Nouvelle cuisine. For all those who skeptical about so-called "fine dining" because they think of it as a stiff, dated concept, Next is the ultimate antidote. In fact it's exact the opposite as Ed told us. You can wear sneakers and don't need to dress up if that makes you feel uncomfortable. We love this.
From Next it's only a short walk to Ed's place, where he and his wife Alexis live together with their dog. The apartment is situated in a modern complex and is obviously the home of a sneakerhead. One of the first things we recognized are the Nike and Jordan boxes blocking the refrigerator (their impressive collection of fine spirits comes next). Ed apologized to us for the slight chaos in the kitchen, but there wasn't really any need. After all it wasn't too different to our own place. But before we got into some nerdy sneaker talk we wanted to hear more on Ed's personal story. "We were both trying to push ourselves and to be more creative within the restaurant, but obviously their clientele was older and not so open minded" Ed described the situation in New York at his former workplace. "So why don't we move to Chicago? I asked my wife." In retrospective this moment seemed to be the inflection point. "I remember just buying a train ticket to Chicago. We were both kind of drunk, I guess. We both went home, packed some stuff and in the next morning we were here with only 200 Dollars in our pockets."
A new start can be tricky, especially if you ended up in a completely new city. "When we moved here, we obviously didn't know anyone" Ed told us. Today he seems happy with their decision, but we can imagine that the first days were probably quite rough. Ed admits that he panicked a little bit when he realized what they had done. "On our way to Chicago, still on the train, I emailed Next, telling them that I needed a job. It was around 6 AM". Within some hours he got an answer from the restaurant, telling him to show up in the upcoming week. That's how he got a foot in the door at Next. His first day at work was nevertheless different than expected: "Most people start in the basement with the morning crew, but as I already managed kitchens they put me straight in the actual line as a cook." To Ed this came like a motivation boost: "It was pretty awesome to see that intense environment" he tells us, proud to be an important part of the Next/Alinea family today. Looking back on the last 4 years, for him and his wife Alexis moving to Chicago was obvious the right decision: "That's why we moved to Chicago, because we wanted to evolve and I felt hat Next was the perfect place to be in." But at the same time Ed learned that you can't plan everything in life or every step in your career: "The plan was to be there for a year, but within 9 months I got promoted to sous chef and a year after to Chef de Cuisine." We guess there's not much to complain about getting ahead like Ed and Alexis did, who at the same time became the head bartender at The Aviary.
But Ed is not only a distinguished, very creative chef, he's also into sneakers. "My collection may not be that big, but I have some nice pairs". Ed's introduction of his sneaker collection turns out to be a big understatement as it's not quantity that matters. To be completely honest, we couldn't spot one bad pair. Various Air Max 97, the Off White x Nike Presto and Vapormax, some Jordans (also the Off-White's), the atmos x Nike releases, the latest Acronym Vapormax Moc and of course the Tom Sachs Marsyard 2.0. Ed is a swoosh lover, hands down! When it comes to kicks, it's all about Nike and Jordan. It seems rather impossible not to love Jordans when you live in Chicago, right? "There are also other chefs who collect sneakers but I'm really pushing it to be known as the chef who likes fashion and kicks." Ed has no problem admitting that he sometimes buys hype releases from resellers. "I wish, I could wear sneakers all day" Ed confesses. At the moment he is still looking for the Off-White Vapormax White pair (he needs an US10, perhaps you can help him out).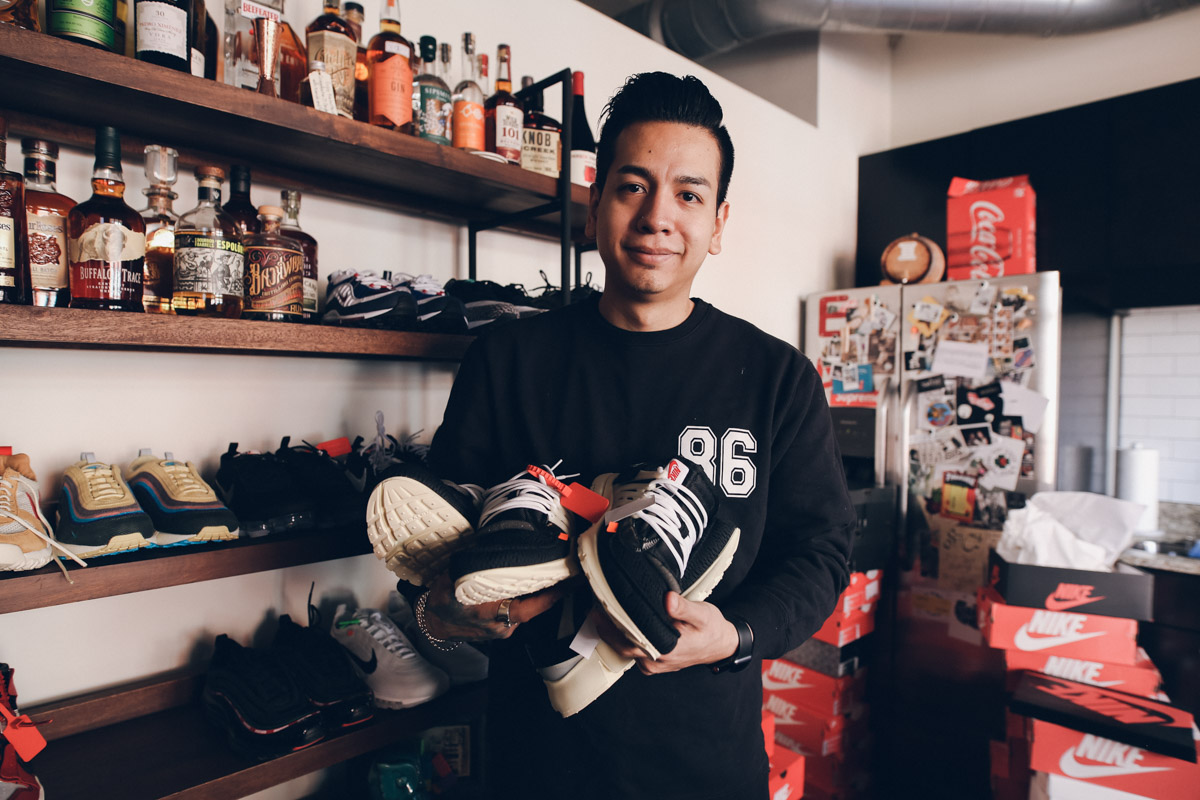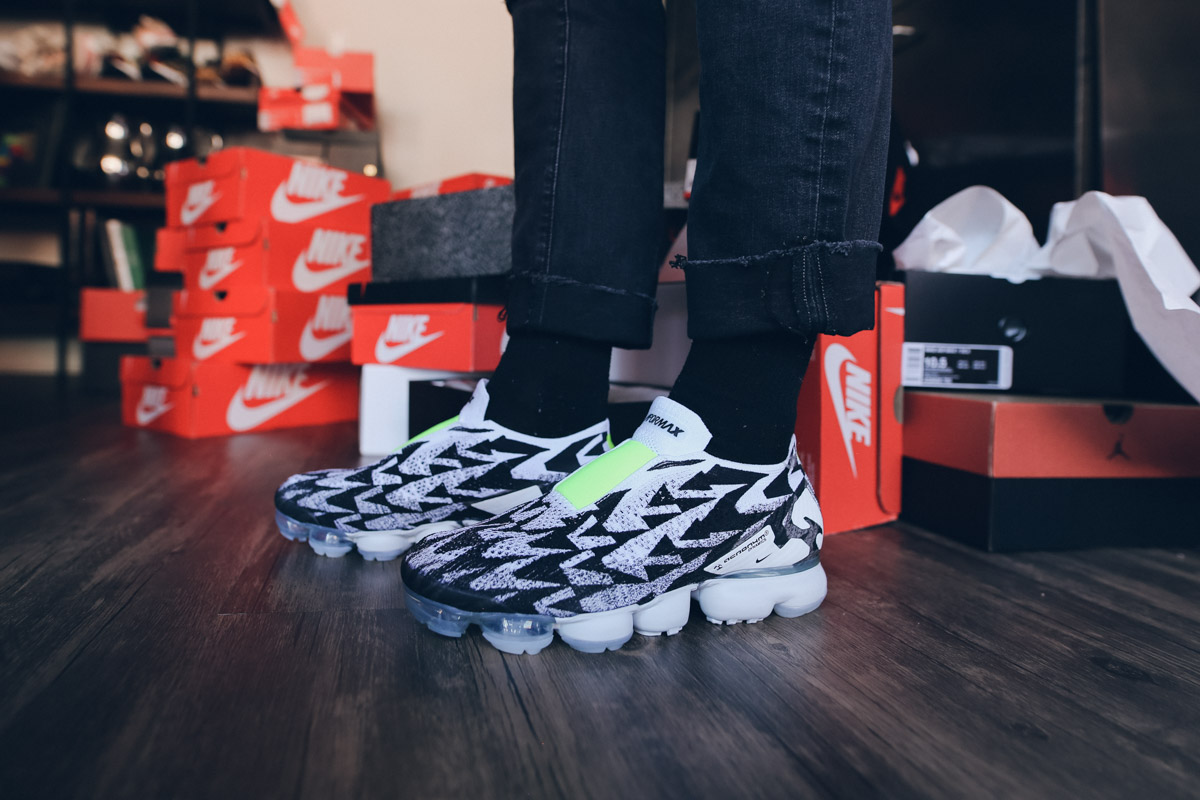 When asked what his own sneaker design would look like, he doesn't need to think twice: "My design would take inspiration from the Tom Sachs and the Off-White Presto. I just love how Virgil put all the details in the right place. The tongue, the strap and not to forget the use of different materials, this shoe is a piece of art." But Ed isn't someone who likes everything that gets hyped. He points at the Off-White Air Max 97: "I feel like Virgil could have done a lot more with that pair than he actually did. I mean, they are alright but no comparison to his Jordan design or the Presto." If someone calls him a hypebeast, he's probably the most rational collector of hype kicks we can think of.
Thanks to his love for sneakers he and Michael from Notre joined forces for a remarkable Nike event during Air Max Month. Only a couple of guests – mostly creative people, bloggers and sneakerheads from Chicago – had the privilege to be invited to a very special dinner (needless to say that we are pretty jealous). The Next crew created a full menu, experimenting with liquid nitrogen to freeze not only the food but also some Nike kicks. The recap video done and edited by Michael is pretty stunning. And if you watch closely you will recognize Ed in it. Compared to all those often boring launch events from big brands this Next and Notre collaboration clearly stands out. And it could point to the future. Someone who appreciates good food might also like elaborate streetwear and vice versa.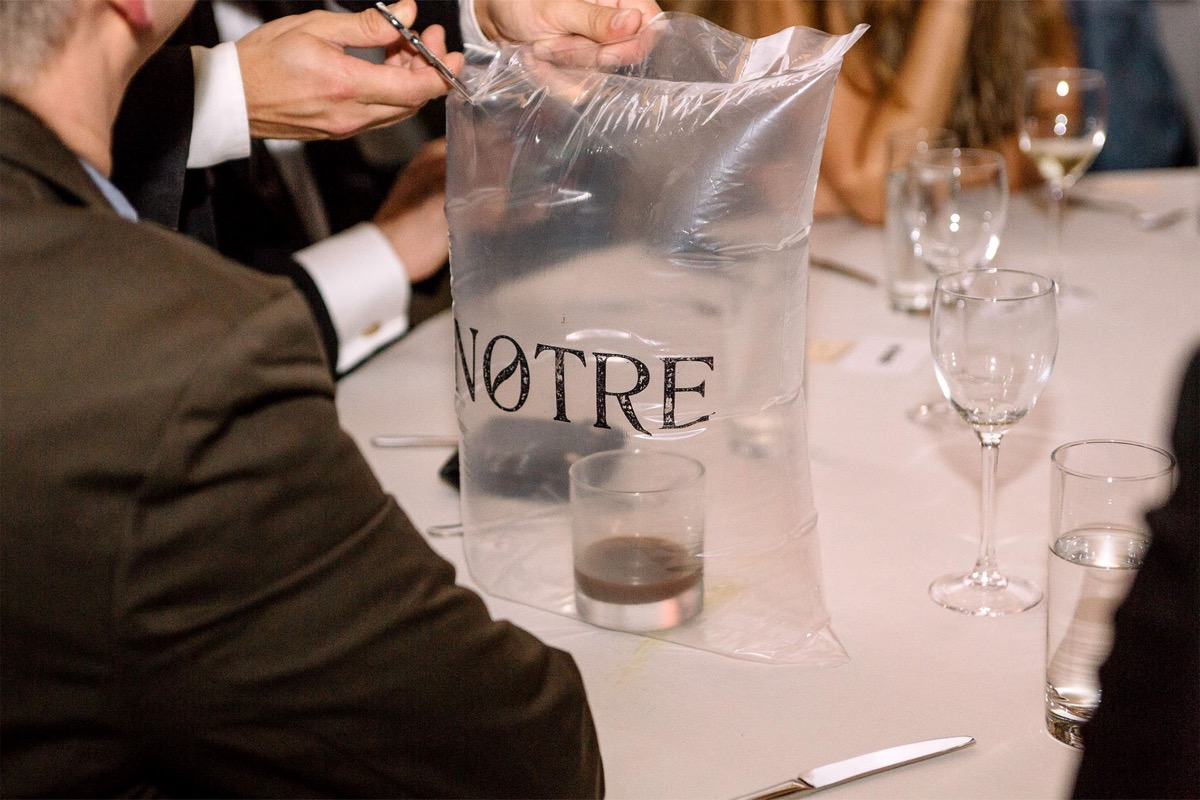 Ed is already thinking in that direction: "I love to think about new concepts like for example how can you bring a retail store and a restaurant together? Hopefully in the future there's a chance to explore those things." Notre would be the perfect match as they have also bigger ambitions. So what's next (no pun intended) for Ed and Alexis? "I actually started to love Chicago but I also miss New York" says Ed and he adds with a smile: "At the end of the day I don't wanna do something and not feel 100% happy. If I have the opportunity to open my own restaurant here, I will definitely do it." We have no doubt that he will achieve his objective rather sooner than later. Ed's and Alexis' story is inspiring. It tells us something about life in general and that's why we all can relate to it. In the end it all comes down to a few things: Chasing dreams, taking risks, living it to the fullest.