28 Nov

Bar Guide New York Part 1

When we think of New York, we think of places like NoMad, Pegu Club, Dead Rabbit, Death & Co. or Milk & Honey. As you've obviously found this guide on our blog, you may also be familiar with some or all of these names that have been representing New York's cocktail and bar culture over the last twenty years. They are all legends on their own. Some have closed unfortunately; some have changed, and some continue to thrive until today. And many great bartenders have earned their skills at one of those bars. You can actually trace back many careers to only a handful of places – even in such a big city. To us, NYC's diverse and top notch bar landscape seems almost unbeatable, only maybe London can compete. We would like to introduce you to some of our favorite bars and bartenders in this guide. And because there are so many, we will have a second edition coming up for you! Just a little recommendation from us: Don't be fooled by all the popular bar rankings. As much as we love those lists, they are not always reliable. If you stick strictly to a "Best of" ranking, you will probably miss NYC's best bars or get lost in a tourist trap. We want to save you from both! Enough of boring talk, let's drink (responsibly)!
Baby remember, I'm not drinking wine
But that cherry coke you serve is fine
And our love's sweet enough on the vine

– Lana Del Rey, Bartender
****
Banzarbar (Freeman Alley)
For a great brunch on the Lower East Side we always opt for places like Freemans that has become a true staple not only for brunch lovers. While the restaurant itself doesn't need an introduction (we included it in our food guide nevertheless), it is also home to a treasured secret called the Banzarbar. Tucked away on the second floor of Freemans Restaurant, this gem of a cocktail bar offers a very small and cozy space (only 20 seats, so reservations are highly encouraged) that seems to be the perfect retreat for an intimate date on a cold winter night. As soon as you enter the bar you feel like worlds away from the buzzing streets of New York. The elaborate decor will transport you immediately into the world of early 20th century explorers and sailors. The high-class bar program was curated by Eryn Reece, whose love for cocktails brought her once from her West Coast home in Portland to NYC. After being promoted as the Head Bartender of Death & Co. – an NYC classic that shaped the city's landscape during the last ten years – she is now responsible for Banzarbar's unique creations that embrace nice twists on classics as well as more fruity and spicy tiki drinks. Martini lovers should definitely order the "Moonraker Sail" made with shouchu and blanc vermouth. If you're more in a tiki mood, then go for the "Shackleton's Urn" that mixes gin with rum and different spices like cinnamon and green chili. This drink is limited to "2 per traveler" as it can knock out even the toughest sailor. Finally, Banazarbar can offer a five-course low ABV tasting menu (95 Dollar per person) with seafood centric dishes matching the bar's nautical theme. We definitely need to be back for this pairing of great food and drinks!
Patent Pending (49 West 27th Street)
What's the link between Nikola Tesla and bar culture? We must confess that we weren't able to give an answer before visiting Patent Pending near Madison Square Park (and around the corner of legendary NoMad bar). While the café in the front is busy during the daytime, it's of course the back room that drew us here. Or if you want to be more accurate, we were guided by a popular navigation system. Today's technologies like GPS and even Wi-Fi can be traced back to Tesla's ground-breaking work more than a century ago. It's more than a nice anecdote that this small bar is situated in the building in which Tesla lived and performed his experiments on radio waves back in the day. Nods to this work can be found throughout the bar's classy interior. You just need to raise your head to the endless light bulbs hanging from the ceiling. If you look closely you can spot even more Tesla memorabilia here. We can guarantee that Patent Pending's unique theme feels neither gimmicky nor false. Instead, you will be treated with great hospitality thanks to Patent Pending's highly dedicated bar team. The cocktail menu that tends to change with the seasons also pays a playful tribute to Tesla's work. Therefore, the drinks are called "Electric Healing" or "Radio Waves". For a perfect summer drink, we recommend the "Mr. Muir" made with gin and calvados and some discreet flavors of ginger and gentian. Give it a try even if you are getting tired of the gin craze! With the café in the front it's not a big surprise that Patent Pending also uses coffee for some drinks. Their Old Fashioned modification "Odd Love" for example adds a flavorful coffee twist to the beloved classic.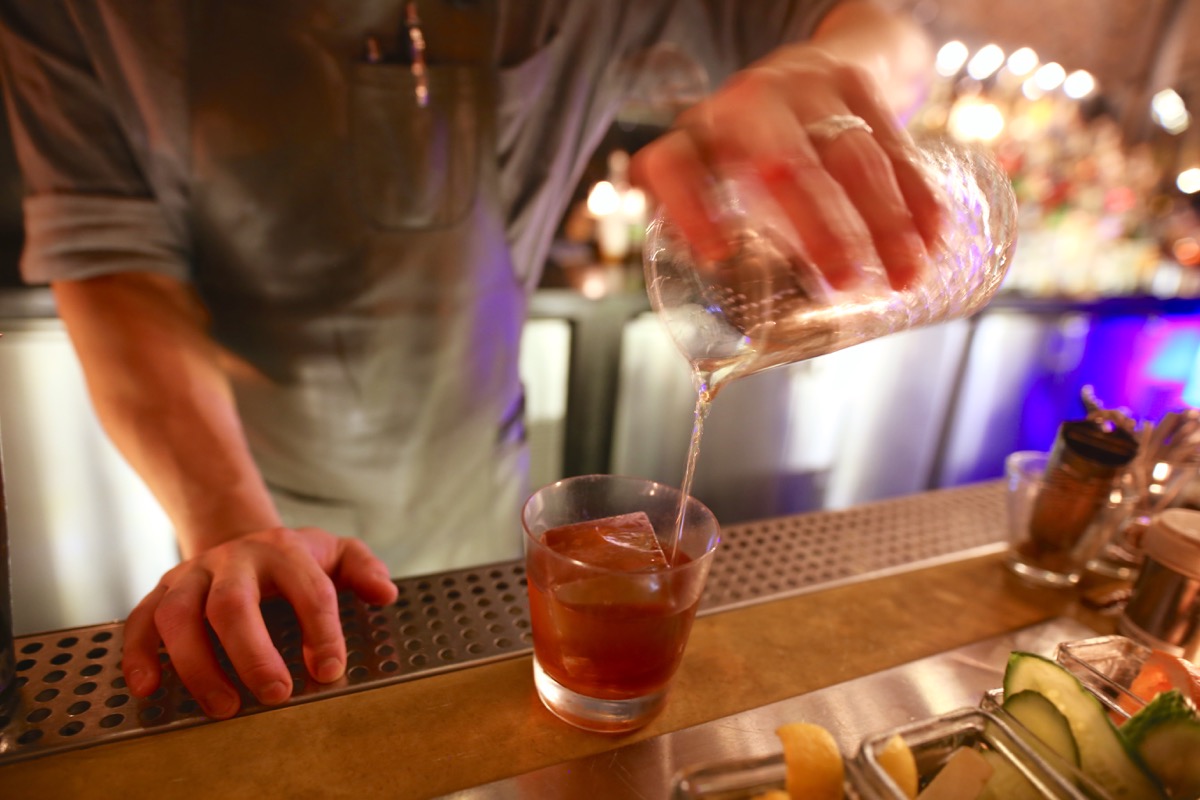 Bar Goto (245 Eldridge Street)
Sometimes it can feel like a struggle to track all of LES' bar openings and closings. When a place manages to survive in such a competitive landscape for more than a year you can already consider this as a success. Bar Goto on Eldridge Street just turned four and it looks as fresh as on its first day (and it's here to stay as we would like to add). This quite small and intimate bar is the "child" of Kenta Goto, who has become one of New York's most well-known and respected bar chefs. Before he decided to open his own space, Kenta worked many years at legendary Pegu Club in SoHo – a true New York staple with a rich history and also the steppingstone for many of today's big figures within New York's bar scene. The bar itself and also the premium drinks are a reflection of Kenta's personality, his roots and time spent almost equally in Japan and the US. The "Sakura Martini" is the perfect example of this cultural mix and also a manifestation of Kenta's approach to craft cocktails. He uses premium sake and gin as the base for his Martini whose taste is as memorable as the cherry blossom garnish. A minimalistic masterpiece! While Kenta likes to add new drinks to his menu from time to time, the "Sakura Matini" will always be available, he promises. Shochu based drinks are another of Bar Goto's characteristics. We have to admit that we probably wouldn't go for the "Koji San" because of our aversion to celery. But when we tasted this refreshing crowd pleaser, we almost forgot about this fact. On the contrary it's a great choice to learn more about Bar Goto's cocktail program that comes with matching Japanese bar food. Small dishes like the spicy miso wings blend typical American bar snacks with Asian influences. The drinks may still be the main reason why you should put Bar Goto on your NYC bucket list, but their Okonomiyaki (savory cabbage pancakes) is another striking argument.
Nice to meet you Kenta! Could you please introduce yourself?
My name is Kenta Goto. I'm a Tokyo transplant living in NY for the last 20 years. I've been working in the restaurant/bar industry for 15 years. In 2015, I opened my bar, BAR GOTO, in the Lower East Side. I am currently working on opening a second bar in Brooklyn.
What makes your bar unique?
Bar Goto is a hybrid of Japan and New York. It's not traditional Japanese, but a reflection of my experiences in both places.
Please tell us your favorite spirit and drink!
I'm a big fan of Scotch. I also love Sake and Wine.
What bartender from NYC should we meet next?
There are many to introduce, but definitely Sother Teague of Amor y Amargo. He's full of knowledge when it comes to good eating and drinking. He's not only a great host behind the bar, but a great chef, author and radio show host. A busy man!
Any recommendations what to do in NYC?
If this was my first time in New York, I would say watch the sunset from the observatory on top of the Rockefeller Center. Also, just eat and drink your way through the city!
Dante (79-81 Macdougal Street)
There are not many places in NYC with a history like Dante in the Greenwich Village For many years called "Caffe Dante" this Italian restaurant/bar/café is quintessential NYC. And even though this should be first of all a bar guide, it's almost impossible to write some lines about Dante without praising their delightful food. Their charcuterie of exquisite Italian sausages is simply to die for, as is their handmade pasta. Also, we highly recommend saving room for Dante's signature tiramisu. We can guarantee that you will leave this place perfectly happy! Dating back to 1915 Dante (or ex Caffe Dante) embodies the history and changes of the Village. It's a stroke of luck that the new owners stayed true to Dante's roots in the community. Over the years this place became a second home for many New Yorkers – both famous and non-famous. Just look at some of the pictures lining the walls to catch a glimpse of Dante's lively past. Robert Maplethorpe, Bob Dylan, Jerry Seinfeld, Al Pacino, Robert DeNiro – they all loved or still love Dante. When it comes to drinks, the new Dante is even more aspiring. Famous for their Negroni variations like the pictured "Negroni Bianco" or the Garibaldi a classic Aperitivo at Dante is much more than a safe bet. It's probably the best way to start your night! Even an often neglected drink like the "Grasshopper" can be an eye-opener, did you know that? Countless bar awards and high rankings – they recently earned the top spot of the "World's 50 Best Bars" – are evidence of Dante's qualities in drinks and craft cocktails. In his own way this is New York's equivalent of London's Bar Termini.

Devon (252 Broome Street)
We are still in love with New York's ever-changing Lower East Side, mainly because of its diversity. The bar scene is one of them. A very sleek and stylish place called Devon belongs to the newer additions in the neighborhood, now open for about one year. Oliver Zabar, whose family name is familiar one in New York's restaurant business, wanted to create a neighborhood bar with great food and unique drinks. When it comes to cocktails, he and his head bartender Sean Saunders have definitely achieved that objective (we have to come back for the food, especially for the famous dry-aged burger from Eli's Night Shift). Saunders created craft cocktails that play with unusual ingredients like mustard (yes, mustard). While we have to admit that we would probably choose a different drink from the menu, the truly special "The Knowable Universe" is a real eye-opener not only because of its discreet mustard flavor. The combination of cognac, spices, fruits and egg white make a great drink. Saunders apparently likes to think outside the box, which is quite rare in today's bar landscape, where most people seem to opt for the safest way mostly because of economic restrictions. If your bar is not a success within the first months, it probably won't be around for very long. But there's is so much more we love about Devon. The design is modern and homely at the same time. It's a mix of different elements and styles. The exposed brick walls and the classic terrazzo bar décor set the tone and go astonishingly well with the modern parts of the interior. And there's of course that special LES vibe that Devon knows how to use it.
Nice to meet you Sean! Could you please introduce yourself?
Sure thing, I'm Sean Saunders, the Head Bartender and General Manager at Devon. I've worked in the industry for about twelve years, going on six in the city. My first job was Tooker Alley and then I helped an amazing team open up Happiest Hour and Slowly Shirley where I was lucky to work with many great bartenders from early Pegu Club and Death & Co. era. I've worked with Owneys Rum, Cafe Boulud, and Grand Banks, to name a few.
What makes your bar unique?
Our carefully designed space tries to strike a balance between unique, and welcoming. We try to bring some elevated techniques and ingredients into both the food and cocktails and focus heavily on creating a professional and hospitable service. Ultimately, we're hoping to create a fun, and safe space for everyone to have a great time.
Please tell us your favorite spirit and drink!
I'm definitely a bit of rum nerd. The daiquiri is still, in my opinion, one of the most perfect cocktails.
What bartender from NYC should we meet next?
Brian Grummart from Subject, Sother Teague from Amor y Amaro and Garret Richard from Existing Conditions all have some great insight and advice, amongst many others.
Any recommendations what to do in NYC?
Where to begin? In the summer for a full day nothing beats the Rockaway Ferry. Head up the boardwalk and grab some Arepas or a Burger from Rippers. In the Spring, or Fall hitting up Grand Banks with a sweater will save you from the 2 hours wait times and provide one of the best views in the city. Winter in the city is too easy, hole up anywhere warm with some good food and drinks. I always try to finish a late Friday or Saturday night at Katz, which is open 24 hours during the weekends, and is the non-existent lines are only made better by the experience.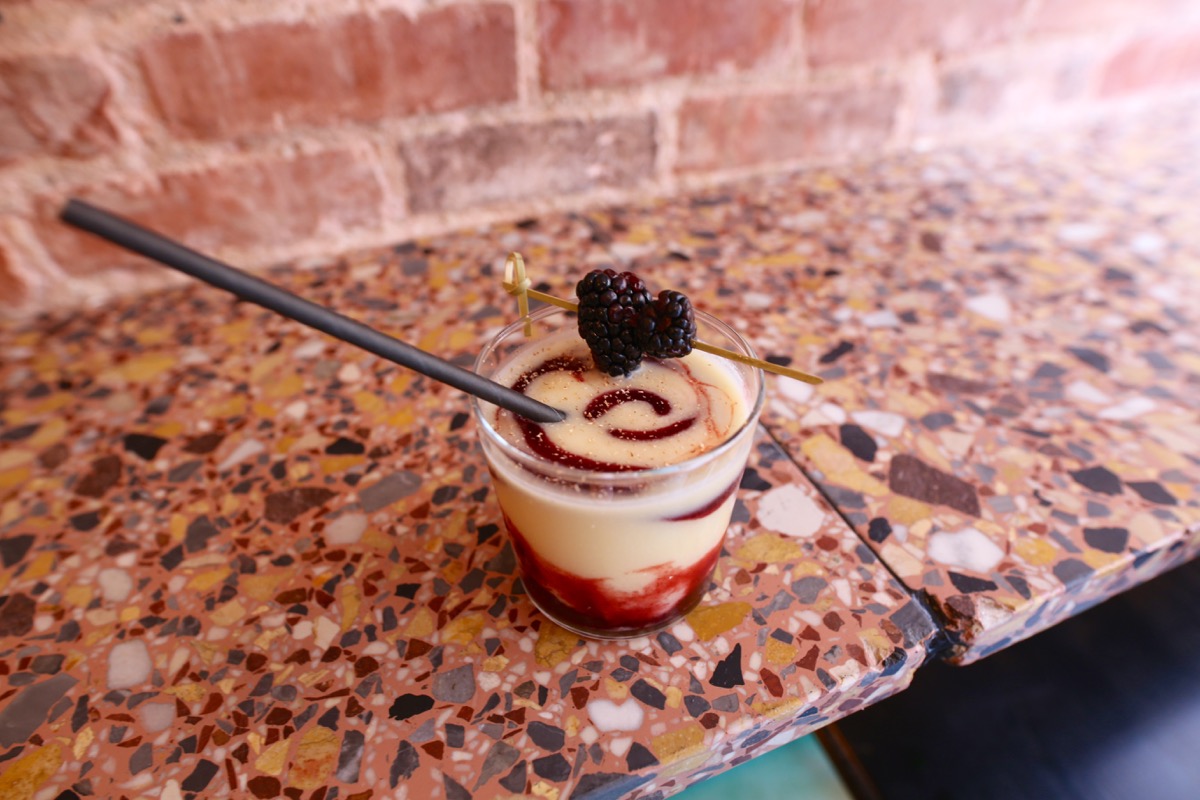 Undercote (16 West 22nd Street)
Neither a typical speakeasy nor a boring restaurant bar, this place does things differently in a very charming and elegant way! Let's talk a little bit about Undercote in Midtown, where barflies and boozehounds find refuge in a dark basement under a Michelin-rated Korean steakhouse. The latter is called Cote, so the name of the bar is quite self-explanatory. Upon entering, guests are teleported into a different dimension of first-class spirits, creative cocktails and a mysterious rain forest ambiance. The back of the bar looks like a big terrarium with plants, twines and lots of green. There is another dimly lit room with even more green. Overall the bar may be relatively small in size, but if you come around later at night, you should be able to grab a seat. As the associated restaurant upstairs mostly attracts a business clientele, the weekends at Undercote are usually not as busy as the weekdays. Sondre Kasin – a native-born Norwegian, hence the first name – is Undercote's master of mixology. His bar menu offers playful twists on classics like the Pina Colada as well as more experimental drinks and the immense popular low-ABV cocktails. We also like to mention the Korean bar food that is served at Undercote. But beware – it's highly addictive! Sondre and his dedicated team treat every guest with an incredible hospitality that we would have rather associated with a small neighborhood joint. In fact, Undercote is the exact opposite of an anonymous restaurant bar. For all mezcal lovers, Sondre created the smoky "Esteban". It instantly became one of our new favorites. The color-changing "Illusions" poured from a cat-shaped carafe (!) is a visual masterpiece and already an Instagram darling. But despite the visual gimmicks the Gin-based drink will satisfy even those who normally reject all social media hypes. Like Undercote itself, this cocktail will satisfy your eyes and your soul.
Nice to meet you Sondre! Could you please introduce yourself?
Nice to meet you as well! My name is Sondre Kasin and I am the principal bartender at Undercote & Cote Korean Steakhouse in NYC. Originally from Norway I have worked 10 years in the hospitality industry but have only been two years in New York. I was brought onto the team by Simon Kim and Victoria James to run their cocktail program at Cote & Undercote here in New York and I have been with them for almost two years now.
What makes your bar unique?
First off, Undercote feels like a subtropical jungle with live plants and greenery. The plants breathes life into the room and fresh air so every time you walk in to the bar you feel relaxed and calm. I wanted the cocktails to be clean, easy to drink and refreshing. A lot of bars can focus on sugar heavy cocktails, a lot of juices and over the top cocktails. We wanted the opposite so you can a break from the NYC city hustle!
Please tell us your favorite spirit and drink!
Nothing beats the classics: Daiquiri or Negroni is always my two go to cocktails. Favorite spirit must be gin. In cocktails gin shows a huge range from Martini to French 75 and works for all occasions.
What bartender from NYC should we meet next?
You already met a lot of my favorite bartenders. However you should definitely visit Aidan Bowie next time. He is the nicest bartender in New York and also makes amazing drinks!
Any recommendations what to do in NYC?
First of all stay away from the tourist attractions and Times Square! Focus on food, cocktails and wine instead. Take a trip to Chinatown in Flushing and eat dumplings/Chinese food. When you get back to Manhattan do a speakeasy bar round and visit all the classic cocktail bars for Martini´s, Manhattan´s and Penicillins. Finish with Korean food at Cote and cocktails at Undercote!
Existing Conditions (35 West 8th Street)
If you are slightly familiar with New York's cocktail history of the last ten years, you will probably rather sooner than later stumble upon a place called "Booker and Dax". That highly innovative cocktail bar/lab at the back of Momofuku was the brainchild and playground of Dave Arnold. After its close in 2016 Arnold shifted his focus to new projects. Together with Don Lee of "Please Don't Tell" and Greg Boehm, who also runs rising star "Katana Kitten" (just wait for our 2nd NYC Bar Guide), he opened Existing Conditions near Washington Square Park in 2018. Staying true to Booker and Dax's roots in new cocktail techniques and methods of preparation Arnold's latest bar also aims for that something special. Guests can for example order bottled cocktails from a vending machine in the front. Another feature is not so obvious. As Existing Condition's head bartender Jack Schramm told us, they carbonate not only the soda/filler but the whole drink including the spirit. Also, they try to use fresh fruits instead of juice for their drinks. It's safe to say that Existing Conditions aims for a different, more elaborate approach to mixology. At the same time the cocktails are presented in a pure, almost minimalistic way neglecting all fancy gadgets. So, in the end it's all about the taste and not about the packaging. We love that! Divided into rather unusual categories like "carbonated", "shaken" and "stirred up" the cocktail menu itself reflects this bias to craftmanship and technology. The pictured "Helicopter" is a bittersweet Norwegian sour made of milk-washed aquavit, Cynar and Aperol. If you're into sour drinks, then this one is for you! For a hot summer day, we recommend one of the shaved ice cocktails like the "Italian Ice" made of Byrrh (a French aperitif), Amaro and Aperol. In either case you won't be disappointed, leaving Existing Conditions in a good condition.
Nice to meet you Jack! Could you please introduce yourself?
I'm the Head Bartender at Existing Conditions, the cocktail bar from Dave Arnold and Don Lee on 8th Street in the West Village. I also run the bar in the Pernod-Ricard USA New York office. Life is all about balance, so when I'm not clarifying juice in a Spinzall or distilling peppers in a rotovap I test drinks with new flavors of Malibu and Kahlua.
What makes your bar unique?
The thing that excites me the most about Existing Conditions is that we manage to execute cocktails with hours of prep and a bedrock in science and technology, but avoid the "laboratory" trope that can make bars like ours feel clinical. We are a neighborhood bar with lots of regulars both in and outside of the industry that happens to use some tools like centrifuges and liquid nitrogen in pursuit of flavor. The science is there and we are all happy to talk about techniques, but the majority of our guests just enjoys a delicious drink in a warm, inviting space.
Please tell us your favourite spirit and drink!
It's a tie between Mezcal and Rhum Agricole. I think both of these exhibit terroir, which can be difficult to showcase, especially in aged spirits. Favorite drink is a Daiquiri, preferably with a blend of R(h)ums.
What bartender from NYC should we meet next?
Will Wyatt at Mister Paradise. Will and I worked together for a year at the NoMad, before we both left to start our current projects. His drinks are delicious, his bar is wonderful, and he has a very specific sense of humor that gets me every time. We share an ethos at our bars – incredible cocktails in unpretentious spaces. It's my favorite bar to drink at right now.
Any recommendations what to do in NYC?
New York is an incredible city to dine and drink in alone. If you find yourself on a solo adventure, make sure to be very kind and not be pushy, but have a conversation with your bartender. We love to send guests back and forth to each other and give up the secrets of the best places and menu items to people that show genuine interest. Make sure to walk as much as possible. There is so much to look at, art, architecture, and especially people watching. Just take the city in and eat and drink as much as possible!
Reception Bar (45 Orchard Street)
In a time when political leaders try to build walls again, it seems more important than ever to take a firm stand against all kind of discrimination and to emphasize the positive aspects of immigration. As an Asian-American woman, Reception Bar's owner Katie Rue wants to introduce flavors from her Korean heritage to a modern (American) cocktail bar. Therefore soju – a very common spirit in Korea distilled from rice – is the base of many drinks. The different sojus are all infused in-house by Katie and her team, emphasizing the importance of elaborate cocktail techniques for Reception's ambitious drink menu. For the pictured low-ball, which is called "Smokes", she uses pine smoked lapsang soju, Korean pear shrub and eucalyptus bitters. It's one of her signature drinks that keep the promise of a balance between the east and the west. Another outstanding drink is the "Devilwood Bloom" served in a coupette and made with osmanthus soju. It's as tasty as visual appealing. The place itself follows a beautiful geometric design with big windows, flowers, and an earthy color palette. Lots of natural light floats the small, intimate bar (Reception's operating hours start at 1.00 PM with the exception of Monday, when the bar is closed). From a visual standpoint Reception shares more elements with a café than with a traditional bar. The many non-alcoholic choices that Katie calls "elixirs" would also match that café comparison. Hence Reception may also appeal to those who are not frequent bar visitors. In any case it's a welcome addition to the LES neighborhood.
BlackTail (Pier A Harbor House, 22 Battery Place, CLOSED)
Dead Rabbit is a one-of-a-kind success story. It became the "World's Best Bar" and earned endless awards. For co-founders Sean Muldoon and Jack McGarry – two close friends from Belfast, Northern Ireland – the success of the Dead Rabbit was not the end of their ambitions. And so here we are! This ancient Cuban oasis called BlackTail takes you back to a time when Americans left their home to enjoy the good life on an Caribbean island that later should become their archenemy. The prohibition also forced many bartenders to leave the country. Their talent was no longer wanted/needed in the US. With an emphasis on this forgotten part of US history the guys behind BlackTail established an exquisite cocktail menu in a remarkable setting. This bar feels indeed like a time machine. Upon entering you find yourself teleported to pre-communism Havana. There's often live music that adds even more atmosphere to this wonderful place on the 2nd floor of the Pier A Harbor House. BlackTail's latest drink menu honors the music history of Cuba and the Cuban passion for rhythm and dance. Divided into five main categories (Highball, Punch, Sour, Old-Fashioned, Cocktail) it's a really tough choice to limit yourself to just 2 or 3 drinks. We actually recommend staying for the whole night and also taste their delicious bar food. If you love mezcal like we do, the "Spice Tree" won't disappoint! But as its name suggests it's a little spicy thanks to the use of Habanero chili. You will also find all the Cuban classics on the menu from legendary Mojitos to Pina Coladas. We can assure you that BlackTail's versions have nothing to do with all the shitty, watered down happy hour drinks. This is in fact first-class drinking in a league of its own!
Ghost Donkey (4 Bleecker Street)
What's the perfect bar to us? It's probably a place where great hospitality and great drinks come together and where you immediately feel welcome. By that definition, Ghost Donkey in NoHo is very close to perfection. It's a lively mezcal and tequila joint that celebrates Mexican culture, diversity, friendship and all the good things in life! All these values are incarnated in host Ignacio "Nacho" Jimenez, who is one of New York's most famous bartenders. If you meet him at Ghost Donkey shaking and stirring, you will realize that he simply loves what he does. You may practice all the basic bartending skills and learn what's to learn about cocktails, but it's almost impossible to learn real hospitality. Nacho is the heart and soul of Ghost Donkey that gets quite busy also on weekdays. But a fun place like this has to be a little lively and crowded. When it comes to drinks, Nacho's Ghost Donkey fam likes to infuse new blood into classic cocktails like a Negroni or a Pina Colada. Their "Mole Negroni" is made with fat-washed mezcal and that famous Mexican mole adding a spicy twist to the beloved Negroni taste. Another example of Nacho's genuine take on cocktails is his interpretation of a "Tequila Sunrise" (look for the "Mezcal Sun-Risa" on the menu). He uses both mezcal and tequila with some dashes of habanero and hibiscus. Finally, even a simple "Pina Colada" can still be an eye-opener. You don't believe us? The Ghost Donkey "Pina Colada" proves all skeptics wrong. It's refreshing, not sweet and absolutely delicious! The same could probably be said about their Mexican food. But as we headed somewhere else for dinner that night, we have to come around again for some Nachos and Tacos (and more drinks).
Nice to meet you Nacho! Could you please introduce yourself?
My name is Ignacio "Nacho" Jimenez. I am the Donkey Guru here at Ghost Donkey!
What makes your bar unique?
I think this is our approach to hospitality. We not only see hospitality as a reflection of our service, but as the special atmosphere we are able to achieve with all the different aspects of the bar inlcuding design, music, service, drinks and food. Overall we aim to create a festive atmosphere, where everyone feels welcome.
Please tell us your favourite spirit and drink!
I love all spirits and I believe that there's a time for everything. That being said I do find myself drinking a lot of mezcal lately but I'm a big fan of Japanese Whiskey, Rum and Cognac. When it comes to cocktails Daiquiris are something that I really enjoy drinking.
What bartender from NYC should we meet next?
Jorsand from Cosme! He is an amazing source of knowledge when it comes to Mezcal. And his attention to detail and friendly attitude will make your next bar visit really special.
Any recommendations what to do in NYC?
I'm in love with Public Records and Night Moves at the moment. Both places have an incredibly design, an amazing sound systems and super cool beverage programs.
****
The Sneakerzimmer NYC Bar Guide Part 2 coming early 2020!