05 Nov

Woei x Asics Vintage Nylon Release Recap & Interview

Warum waren wir eigentlich noch nie Rotterdam? Diese Frage haben wir uns in den letzten Tagen oft gestellt. Schließlich haben wir uns dort gleich sehr wohl gefühlt, wie eigentlich fast überall bei unseren niederländischen Nachbarn. Am Freitag fuhren wir von Köln nach Rotterdam. Den Grund dafür könnt Ihr Euch sicher denken. Rotterdams Sneaker-Boutique Woei und Asics Tiger präsentierten nach dem legendären Gel-Lyte III "Cervidae" und dem Colorado Eighty-Five "Cervidae II" ein weiteres Projekt. Und wieder konnte Besitzer Woei Tijn seine Lieblings-Silhouette, den Gel-Lyte III, nach den eigenen Wünschen gestalten. Dieses Mal entführt er uns nicht in die Wildnis sondern ohne Umwege zurück in die 1980er Jahre.

Sowohl die bunten Pastellfarben des Gel-Lyte III "Vintage Nylon" als auch der namensgebende Materialmix sorgen für die perfekte Zeitreise in das Jahrzehnt von Aerobics, Föhnfrisuren und Synthie-Pop. Sagt man den 80ern oftmals schlechten Geschmack nach, auf die neue Woei-Collabo trifft selbiges aber bestimmt nicht zu. Wir finden sogar, dass dieser zu den schönsten Gel-Lyte III der letzten Jahre gehört. Allein das schimmernde Nylon-Upper ist ein garantierter Hingucker. Dazu trifft der Farbmix nicht nur den Style der 80er, er schließt auch eine Lücke in unserer Asics-Sammlung. Wer Woei kennt, weiß nur zu gut, dass hier ein echter Asics- Connoisseur und Sneakerhead seinen Traum lebt. Interessant war auch, was er uns im kleinen Exklusivinterview über die Anfänge der Collabo verriet. Auch seine klaren Worte über die aktuellen Entwicklungen in der Sneaker Community sind erfreulich ehrlich.
Am gestrigen Morgen warteten schließlich über 200 Leute vor dem Store in der Hoogstraat auf den Release des Gel-Lyte III "Vintage Nylon". Manche hatten schon 2 Nächte Campout hinter sich, viele reisten aber auch erst am Morgen aus Deutschland, Frankreich, Belgien und Luxemburg an. Wir hatten den Eindruck, dass darunter erfreulich viele "echte" Asics-Fans waren, was such schon an der Wahl des Schuhwerks zeigte.
Da wurde der Afew Gel-Lyte III "Koi" und der Patta Gel Saga Amsterdam gerockt. Und natürlich war auch der "Cervidae" öfters vertreten. Aus den On-Feet-Shots ließe sich jedenfalls problemlos ein eigener "Best of Asics"-Blogpost basteln. Der Community-Gedanke zeigte sich auch, als die ersten mit ihrem Paar den Store verließen. Da wurde laut applaudiert! Wie viele Reseller von der Aussicht auf einen schnellen Gewinn angelockt wurden, wissen wir nicht. Dass jeder lediglich 1 Paar kaufen konnte, war von Woei zumindest eine gute Maßnahme, die manch einen abgeschreckt haben dürfte. Und so blieben mehr Schuhe für alle anderen übrig. Da viele von Euch uns gefragt hatten: Der Online-Release folgt am Montag um 10 Uhr.
Nur bei Woei gab es zum Gel-Lyte III die passende Track Jacket limitiert auf 200 Stück. Echte Asics-Fans überlegten nicht lange, ob sie hier zuschlagen sollten. Wie wir hören, dürften die Stückzahlen beim bevorstehenden EU-Release bei Asics Family&Friends-Accounts (in Deutschland u.a. TGWO, Overkill) deutlich kleiner sein als bei vergangenen Asics-Collabos. Es wäre eine gute Maßnahme, um den Sammlerwert einer solchen Collabo wieder zu verbessern. Wir möchten uns zum Ende noch bei Woei und dem ganzen Asics-Team für ihre tollen Gastgeber-Qualitäten bedanken (Woei, thanks for your hospitality!). Was Rotterdam angeht, so werden wir bestimmt schon bald mal wieder vorbeikommen.
Interview mit Woei Tijn:
Hi Woei, congrats on your 10th anniversary! How would you summarize this last decade?
Thank you guys! My feeling is that our business took off like a rocket during these 10 years. At the opening in 2007 we had around 20 models available. Today you can find more than 200 kicks in our store. My love for sneakers was the motivation to enter this business at that time. Today I still feel the same passion about it.
We're glad to see a strong Gel-Lyte III collab after some time. Why did you choose this silhouette?
From the beginning I knew that I only wanted to do a Gel-Lyte III collab, because it's my favourite Asics model by far. Asics proposed initially a Gel-Lyte OG or a GLV collab, but I said no. I guess, they were suprised by my answer. They told me to come to their office and to convince them. That's exactly what I did (smiles).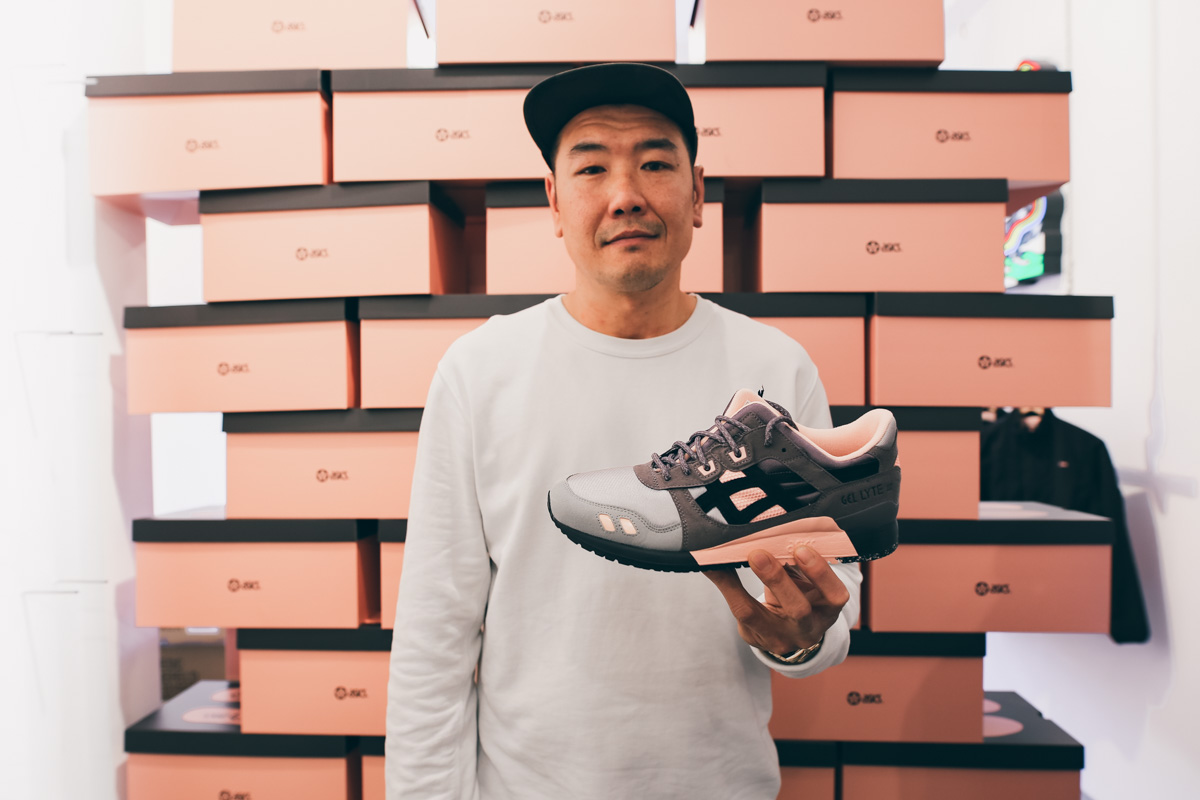 You obviously love the 80s. Do you wanna travel back in time sometimes (not just because of kicks)?
Haha, not really! I just remember this particular softness of the sneakers. Honestly, for me at that time it was all about Nikes. With regard to the Gel-Lyte III I just wanted to make a soft comfy sneaker with a real vintage feel.
What's your take on the sneakers community nowadays? What has changed compared to 2007, when you opened the store?
Compared to 10 years ago a lot has changed. The sneakers community, as you call it, is not the same anymore. Nowadays I mostly see resellers. This mindset is fucking up the real sneakerheads and also the normal retail stores. It's a shame, but what can we do? Not much, I guess.
Can you give us a glimpse about what's coming next?
This Asics project is my last big collab for this year. We'll see what's on our path next year!