12 Mrz

Store-Guide SNS New York

It has become a running gag: "When are you going to visit New York again?" friends ask us from time to time. Obviously we love NYC and we try to visit the city at least once a year. But despite our frequent trips there's always something new to discover. New York is so big, diverse and energetic that it is probably impossible to tick all the things on your bucket list. Honestly, our bucket list is growing longer from year to year. When it comes to sneakers and fashion, New York is the place to be. Brands and stores always try to benefit from the city's aura and reputation, hoping to benefit from a NYC presence. Part of the truth is that not everyone will succeed. But if you make it here, you'll make it anywhere as Frankie once told us. Since this January our Swedish friends from Sneakersnstuff have been operating their first sneaker store in the US. And we have no doubt that their fifth location (after Stockholm, London, Paris & Berlin) will be another major success.
The new store is located in the trendy Meatpacking District, which is renown nowadays for its galleries, art exhibitions and designer studios. It's a creative hub in an already creative city. If you take a stroll on the famous High Line (something which we absolutely recommend, especially during bad weather, because it can be over crowded on a sunny day), you can see the big SNS billboard from there. As the store's location is a little off the beaten track, some bold advertising probably doesn't hurt. Open the door and you immediately enter sneaker heaven. Thanks to SNS's ranking as one of the world's leading sneaker boutiques, their NYC store can stock all the limited and hyped releases. When we came around in January, there was an in-store raffle going on for the adidas Futurecraft 4D – unfortunately we ourselves were out of luck this time. The store itself mixes modern and old school design elements. There are many plants and wooden shelves for some cozy vibes, on the other hand metallic elements and the concrete floor reverberate a clean urban style.
Although each SNS store is unique there are recurring design themes. Take for example the mix of materials (wood, metal, concrete), the SNS logo on the floor or some of the furniture items. In the NYC store, a smaller version of the "Boost table" is situated right next to the entrance. And there are again some unique pieces like the swoosh chair that would also fit perfectly into our Sneakerzimmer. Sadly the NYC store lacks the little Erik and Peter figures we have grown so fond of – at least we did not manage to find them. The store's selection of sneakers and apparel delivers on SNS's first-class standing as one of Europe's most influential destinations for kicks and streetwear. The latest drops from Raf Simons x adidas or Y-3 clearly bridge into fashion territory. If you don't mind the heavy price tags, you can make some decent purchases.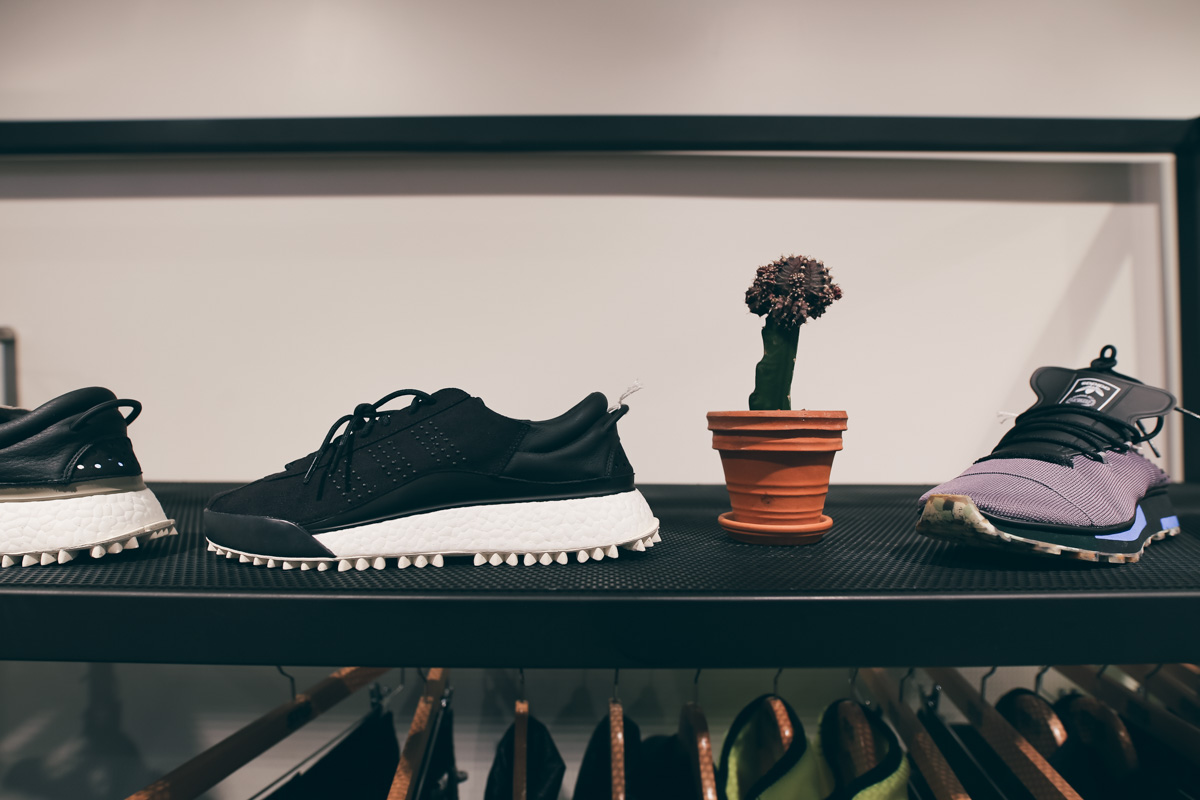 We are pretty sure that New York is big enough for another sneaker boutique. SNS is a strong addition to the city's vivid sneaker and streetwear community. The location in the trendy Meatpacking District may seem a little tricky at first, but it could turn out a well thought-out decision.