07 Mai

Nike Air Max 95 "Beaches of Rio" – Mein Chicago-Mitbringsel (1)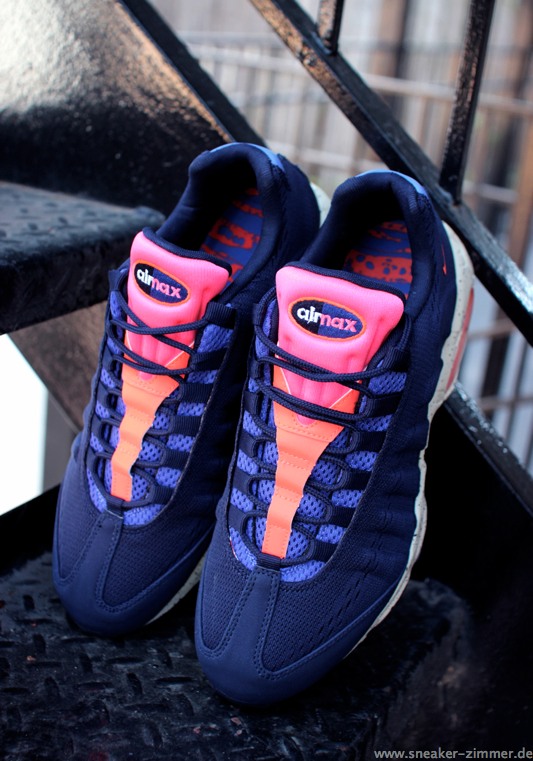 Der eine oder andere wird es mitbekommen haben: Wir waren in den USA – erst New York, dann Chicago. Aus der Windy City habe ich den Air Max 95 aus dem "Beaches of Rio"-Pack mitgebracht. Mit diesem möchte Nike ein Jahr vor der Fußball-WM in Brasilien das Strandgefühl der Copacabana an unsere Füße bringen. Und in der Tat machen die bunten, knalligen CWs Lust auf Sonne und Strand. Der Clou liegt abseits der auffälligen Farbwahl vor allem im verwendeten Material. Nach der Einführung zu Jahresbeginn setzt Nike auch hier auf ein "Engineered Mesh"-Upper, was besonders luftdurchlässig ist und damit selbst an heißeren Tagen noch angenehm zu tragen ist (der Roshe bleibt jedoch unangefochten unser Favorit für den Sommer).
Bei Diana Shoes entdeckte ich recht überraschend schon vor gut zwei Wochen besagten "Beaches of Rio"-AM95 und war sofort ziemlich angefixt. Dass Nike die Farbgestaltung gegenüber den ersten Bilder offenbar von weiß auf dunkelblau abändern ließ, fiel mir erst später auf. Ich bin mir nicht ganz sicher, welche Version die bessere ist. In jedem Fall ist die Entscheidung zugunsten des gedeckteren Navy-Tons durchaus nachvollziehbar. So bildet der Schuh einen Kontrast zu den anderen vier, deutlich auffälligeren Modellen, die nicht so ganz meinen Geschmack treffen. Geblieben ist hingegen die gesprenkelte Midsole – finde ich super – und die orange-pinke Zunge. Die orangenen Luftpolster sind ebenfalls an das Sommer- und Strand-Thema angepasst. Optisch ist dieser 95er somit ein echtes Highlight, das vielleicht auch Skeptiker des Modells überzeugen könnte.
Über das Tragegefühl braucht man nicht viele Worte verlieren. Das war beim 95er schon immer einzigartig. Warum der Schuh in Deutschland dennoch auf so wenig Interesse stößt, ist mir nach wie vor ein Rätsel. Es könnte mit seiner markanten Silhouette zusammenhängen, die manchen als zu wuchtig erscheint. Aber gerade in diesem CW wirkt der Schuh nicht "schwerer" als andere Air Max. Unsere Bilder, die alle noch bei Sommer-Wetter in Chicago entstanden sind, sind hierfür hoffentlich Beweis genug.
Das gesamte Pack erscheint kommenden Freitag bei den bekannten Adressen.
M.