28 Sep

size? x Puma Disc Blaze "Wilderness Pack" – Back to Nature
Man nehme einen Klassiker, ein interessantes Thema und packe beides zusammen. So geschehen beim "Wilderness Pack" von Puma und dem englischen Retailer size?. Beide Seiten kreierten zuletzt ein SMU-Quartett, das aufgeteilt in zwei Teile zunächst in die size?-Shops und dann kurze Zeit später auch zu weiteren Stores kam. Das Quartett bestand aus den vier Modellen R698, XS850, Disc Blaze und Blaze of Glory. Während die beiden erstgenannten die Sahara-Wüste und den Großstadtdschungel in ihrem Design widerspiegeln sollten, beschäftigte sich Teil 2 des Packs mit dem echten, grünen Dschungel und den Bergen.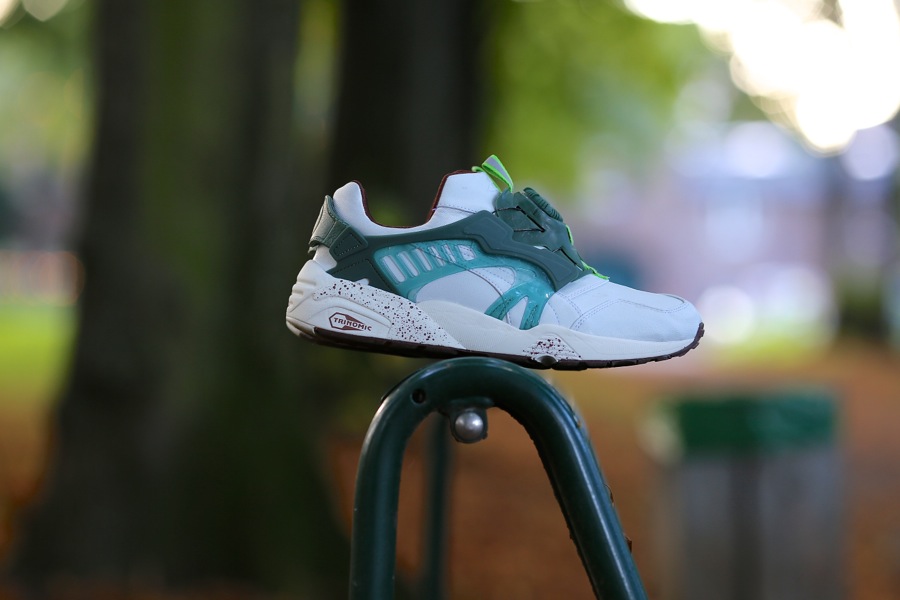 Der Disc Blaze "Mountain" ist für mich dabei eindeutig der stärkste der Vier. Hier wurde eines meiner Puma-Lieblingsmodelle in ein neues, schlüssiges Farbdesign verpackt. Auf der Grundlage eines hellen, weißen Leder-Uppers spielt der Schuh mit wenigen, dafür umso effektiveren Farbakzenten. Hierzu zählen neben den verschiedene Grüntönen auch die braunen (=erdigen) Parts des Disc Blaze, sein Lining und die ebenfalls braunen Sprenkel auf der Midsole. Das Gesamtbild wirkt stimmig und trotz des sicherlich vielseitig interpretierbaren Thema keinesfalls überfrachtet oder unruhig. Vielmehr achtete man bei size? darauf, die besonderen Merkmale des Schuhs klar im Vordergrund zu positionieren. Und dazu gehört in jedem Fall das namensgebende Disc-System mit seinen in diesem Fall türkis-transparenten Kunststoff-Parts.
Was seinerzeit als Revolution von Puma angekündigt war, ist bis heute weiterhin ein eher exotischer Laces-Ersatz, eine Nischen-Technologie auf dem Turnschuhmarkt, mit der ich nichtsdestoweniger viele Kindheitserinnerungen verbinde. Anfang der neunziger Jahre war so ein Schuh mit Disc-System fast schon Science-Fiction. Allein deshalb mag ich das Modell immer noch sehr. Und als gleichermaßen verlässlicher (=bequemer) wie schicker Wegbegleiter für den Großstadtdschungel steckt insbesondere der size?-Entwurf viele der aktuellen Releases mal eben ganz locker in die Tasche. Wem dieser Disc zu wenig nach "Dschungel" aussieht, sollte mal einen Blick auf seinen Kollegen aus dem "Wilderness-Pack" riskieren. Der dunkelgrüne "Blaze of Glory" mag für diese Wünsche genau der richtige sein.
M.