Since at least Nike's massive Air Max campaign with Sean Wotherspoon, whose Air Max design won the "Vote Forward" contest last year, his Round Two empire doesn't need an introduction. Next door to his store on Melrose, where hypebeasts can buy stuff from Supreme, Off-White, Jordan and Acronym (just to name the usual suspects), you find Round Two's vintage treasury (check our guide about both shops). This cool place of 90's memorabilia, old fan shirts, kicks and toys is curated and co-owned by Sean's buddy Adam Fineman. We met him in Los Angeles to get an insight into his daily business and talk about his love for vintage styles.
***
Adam, you're the co-owner of Round Two's vintage outpost. Do you feel like "the hunter for the holy grail"?
Adam: Sure! I think a lot of people look to me to find grails out there in the wild. But honestly, there are so many pickers out there now I'm looking to them to find the grails for me!
Where do you find all those vintage gems?
Adam: I find all my gems everywhere, from online – Instagram, eBay – to the flea markets and thrift stores. Of course you need some luck in either case.
What qualifies a shirt, a toy or some nice old kicks for Round Two's Vintage selection?
Adam: As long as we feel it connects to our childhood, like the 90s feel we all remember and love, then we want it!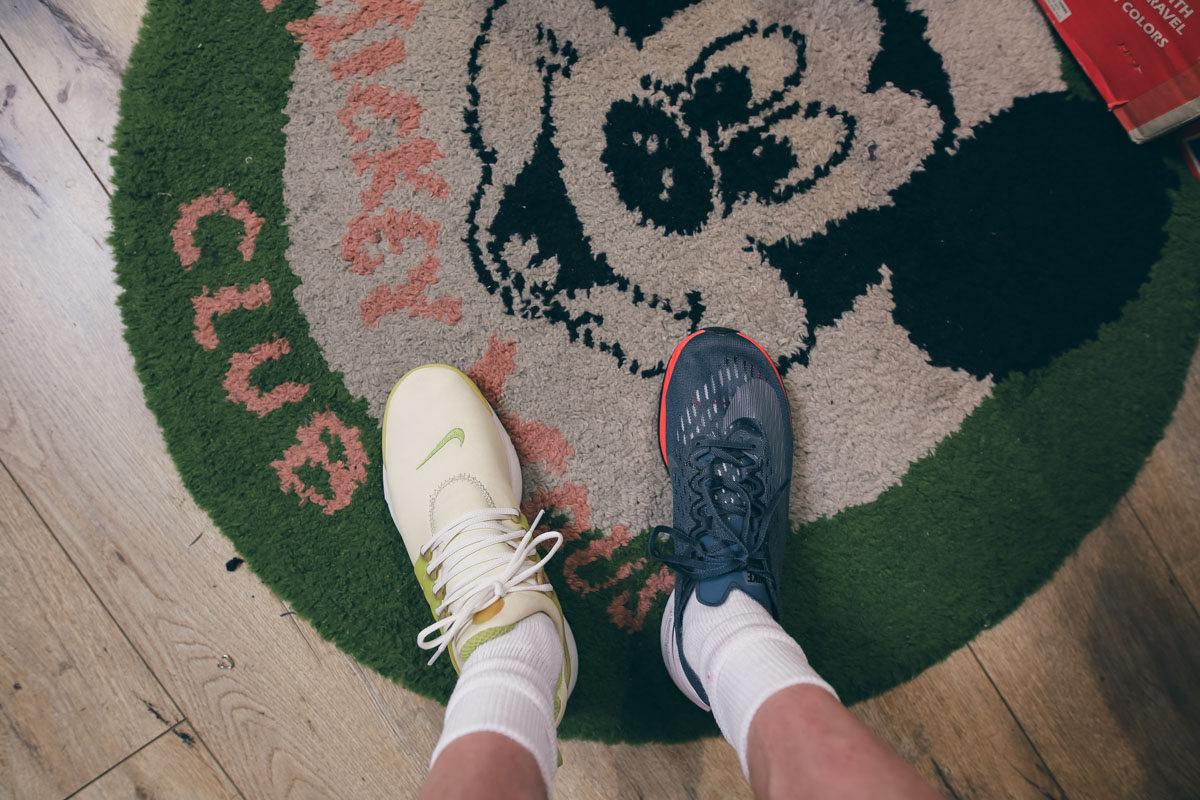 You seem to be a kid of the 90's like ourselves. Can you tell us more about your heroes from your childhood?
Adam: Will Smith and his Fresh Prince was a style icon for me, as well as bands like Nirvana and rap artists like 2Pac. And the Simpsons were my constant source for pop culture and social commentary.
We couldn't imagine today's mad world without the Simpsons! Talking about madness: Some things haven't changed for the better right? We're thinking about all those hypebeasts and resellers.
Adam: The world is going through a rapid and constant change more so than ever due to the internet offering everyone access to anything. I think it's a good thing but also causes for a more accelerated way of life for us all. In other words, we all have no time to take a breather in this game as it's ever changing at a very fast level.
Your friend Sean hast just experienced how crazy today's sneaker game can be. How did you feel about this big Air Max campaign?
Adam: Sean's Air Max release was a huge milestone for himself, RoundTwo and the entire sneaker culture. For the first time, people who weren't major celebrities or athletes, but rather from within the streetwear community, were given an option to create a model of one of Nike's most iconic silhouettes. Sean's Air Max inspires people from all around to create something colorful and exciting within their community.
A vintage store is always like a time machine. Do you wanna recreate this idea with Round Two?
Adam: My vintage store is like my childhood closet. When I was young, I had everything nice and organized in my closet, with displays of figurines and comic books, perfectly lines with my favorites posters and stickers. Ad vintage tees and it's a little paradise in the middle of a chaotic city.
Many people hate LA, but we love the city. What's your tale on this LA controversy and can you tell us some of your davorite places?
Adam: Los Angeles is without a doubt the best city in the world if you enjoy shopping for rare gems. It's the only city where you can drive to 10-20 vintage stores within a day. My favorite place to eat is In-N-Out Burger and one of my favorite places to have fun is Disneyland. I love the hiking, the beaches and of course the deserts for ATV tours or dirt biking. Best of all, I have tons of flea markets every month to attend!
Thanks for your time Adam! We hope, we can learn something from your vintage hunting skills!
If you wanna follow Adam and his passion for 90's memorabilia, you should ckeck his Instagram account @fineminnn. You will also get a peek "behind the scenes" at Round Two.