Posted at 19:37h
in
Asics
The growing popularity of wearing sneakers among women is evident – not only here in Germany. It rather seems to be a global phenomenon as you can spot girls and women of very different ages wearing sporty shoes in every major city nowadays. When it comes to fashion and style, we have to admit that our Scandinavian neighbours are in the lead (by miles). During our trip to Copenhagen last summer we saw perfectly dressed women (and also men) everywhere.
But Copenhagen is not only a fashion style hotspot, it's also the home of Naked. Since 2004 Naked has been clearly focused on "supplying girls with sneakers". It's their signature and DNA. As a female sneaker store with two shops in the heart of Copenhagen they are already well established in the European sneaker community. But I dare to predict that Naked's reputation will rise massively in the coming months. I am wearing one of the reasons for this while writing this text. It's a stunningly beautiful, tri-coloured Gel-Lyte V called "Hafnia" which is – believe it or not – the first ever women's only Asics collaboration. Sorry Guys!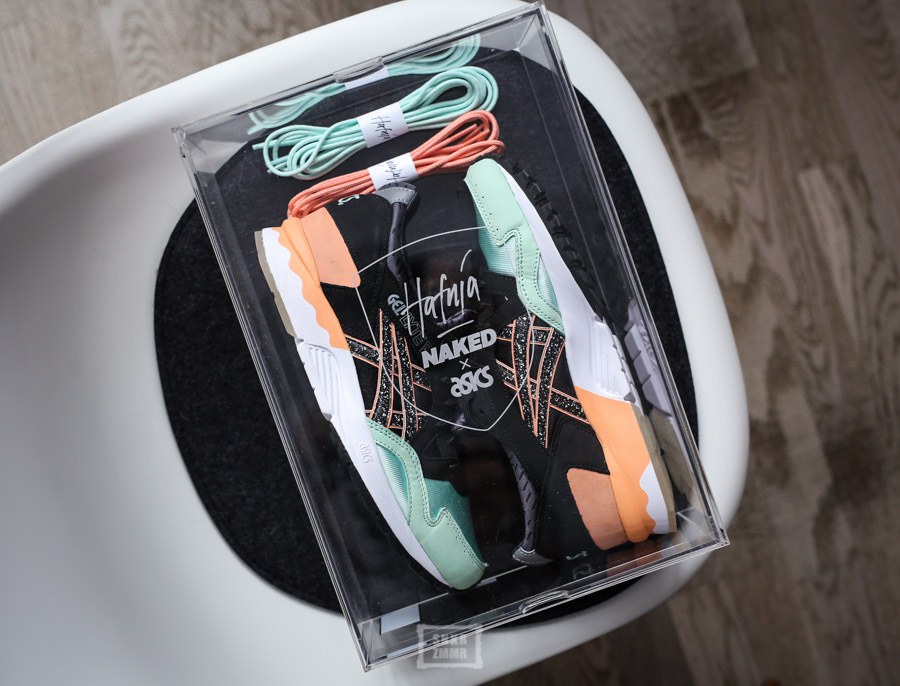 The "Hafnia" (which is the ancient Latin word for CPH) is Naked's stylish tribute to their city and homebase. The colour scheme with its eye catching use of coral and mint reflects the different parts of the city from the waterfronts with their fresh breeze and the distinctive copper plated rooftops that can be found all around Copenhagen. Naked refer to the dark grey camo part around the tongue and on the insoles as "rain camo". It works quite well as a contrast to the more colourful parts. I especially like the white speckles on the Tiger stripes even though I'm not quite sure if there is also a story behind this detail (a subtle hint with regard to the colder winter days perhaps?). In any case the speckles add some nice texture to the shoe, which comes with two extra lace choices in mint and coral. That said, I actually prefer the black option. The upper consists of nubuck, neoprene and shiny nylon around the toebox. Naked's commitment to details is also apparent in choices like the 3M part on the heel, the partially transparent outsole and the special box by Krate available to the first 100 customers.
I am honestly grateful to be a small part of Naked's campaign around the "Hafnia", which stands out as a success not only compared to other women's releases. The hugely popular Gel-Lyte V silhouette looks more than fresh with this Danish makeover. What else could I recommend? If you visit Copenhagen, you can't leave without checking out Naked's sneaker heritage.
The "Hafnia" will see its global release on August 15th.
E.